In Memoriam: Joe Ciappina, 86
Submitted by Rudi Bogni: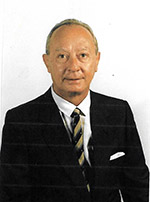 Joseph O. Ciappina, a close friend and former Chase colleague, died on the 14th of March this year, on the same day as Stephen Hawking, something that would have certainly tickled him.
I am reporting it only now, because Joe was a very private man, so it was difficult to confirm key facts about his life, like his date of birth.
He was born on the 1st of March 1932. Joe had both American and Italian nationality from birth. His family originated from Calabria.
As a young man, he volunteered and was sent to Korea from 1952 to 1954. He was wounded and received two medals.
He studied Economics at NYU and at the American Institute of Banking. Meanwhile he worked for the brokers A Stein & Co and joined the Chase Manhattan in 1957, where he served in NYC and in Italy until 1985. In retirement, he set up the "Bull and Bear Club" in Milan, a meeting place for finance executives interested in the markets.
Joe held loyalty above all virtues and had a great passion for the Chase and for his adoptive country, the USA.
My funniest, but deeply touching, memory of him was of the day he came to pick me up from Bari Airport. We had just foreclosed on some dodgy clients and he was worried for me. I noticed something bulky under his jacket. Joe had a gun, ready for any eventuality.
Security was a key concern of his, and he was in charge of David Rockefeller's own security when David travelled to Italy.
He was not good at staying in touch, but over the years we did so thanks to Katy, the absolute love of his life. Each e-mail or letter from him was full of humour and healthy cynicism.
In the corporate world of Chase, Joe was always ready to protect the weakest and to stand up to the bullies and the self-important.
Operations Managers often did not get at Chase the credit they deserved. In death, I'd like to pay homage not only to Joe, the man, but also to Joe, the professional, who–through his work–helped keep the Chase safe and well-functioning even in the most difficult times.