Remembrances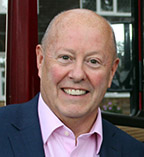 From
Carmine Ricciardi
: I first met Brian when he came to Chase New York in 1981. I was working as an analyst for Chuck Berntson in International Money Transfer Investigations (IMTI). Brian's job was to act as a liaison between Chase London and IMTI. He quickly asserted himself and made his presence felt. In a short period of time, he gained the respect of senior management in IMT and IMTI and was able to improve relations significantly between the London and New York
offices and resolve numerous outstanding issues.
I have fond memories of Thursday nights at the NY Plaza bar, the preferred watering hole for many Chase employees. We were often joined by Bob Fredrickson, Ray Barry, Steve Tedeschi, Peter Plimpton, Tony Stissi and many others from IMT and IMTI. Brian and Ray tended to dominate the conversations. Those were good times.
In 1985, my future wife, Christine Secola started working in IMTI with Brian. Although we all moved on to other opportunities, Christine and I stayed in close contact with Brian. In 1990, he was a member of my wedding party when Christine and I were married. My children thought of him as him their uncle.
Although separated by miles of ocean, I considered him to be my closest friend. I was proud to know him and am a better person because of it. My wife and I were both shocked and saddened to learn of his passing. Our hearts go out to his partner, Joanne, and her son, Charlie, as well as Brian's family and his very good friends Tony and Jayne. He was a caring and generous person and will be sorely missed.
In Memoriam: Brian Jewson, 61
Brian Jewson, of Shenfield, England, died on May 21, 2018 following routine surgery. He was 61.
Jewson began his career at Chase London in 1974 in the International Payments area where he worked with Linda Freshwater, Bob Hunter and Tony Bennett.
He was sent to Chase New York in 1981 where he worked in the International Money Transfer Investigations Department under Chuck Berntson and Tom Kingston. He managed a team tasked to resolve money transfer issues between Chase London and their key clients. Jewson served in this capacity for over seven years.
In 1989, he returned to London, joining SWIFT as a Relationship Manager, and worked there for 10 years. Jewson went on to work as a Relationship Manager at Netik and Braxxon Technology for seven years. At the time of his death, he had worked for over 10 years as Senior Account Director at Vocalink in London.
Jewson is survived by his partner of 11 years, Joanne Gillman, and her son, as well as sisters Pam and Val, and four nieces.
Memorial contributions may be offered to The Dog's Trust or the British Heart Foundation.