Life (During &) After Chase: James Lynch, Explorer
Featured on TravelChannel Documentary/Premiere Postponed, Date TBD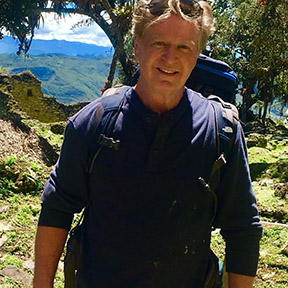 The most recent jungle quest of ex-Chase Brazil banker James Lynch–a journey to Peru to find the not-so-mythical "Land of the Giants"–will be the subject of a documentary on the Travel Channel. The originally scheduled premiere on August 2, 2018 has been postponed so that Travel Channel can do more promotion of the show, which has received positive feedback
This trip is hardly the first exploration or jungle adventure by the 64-year-old, who says South America has been his playground his entire life, having covered every square foot of the continent by foot, boat, helicopter, car or unnamable conveyance.
There was the trip where he and his son were kidnapped. There was the stay with the "very nice and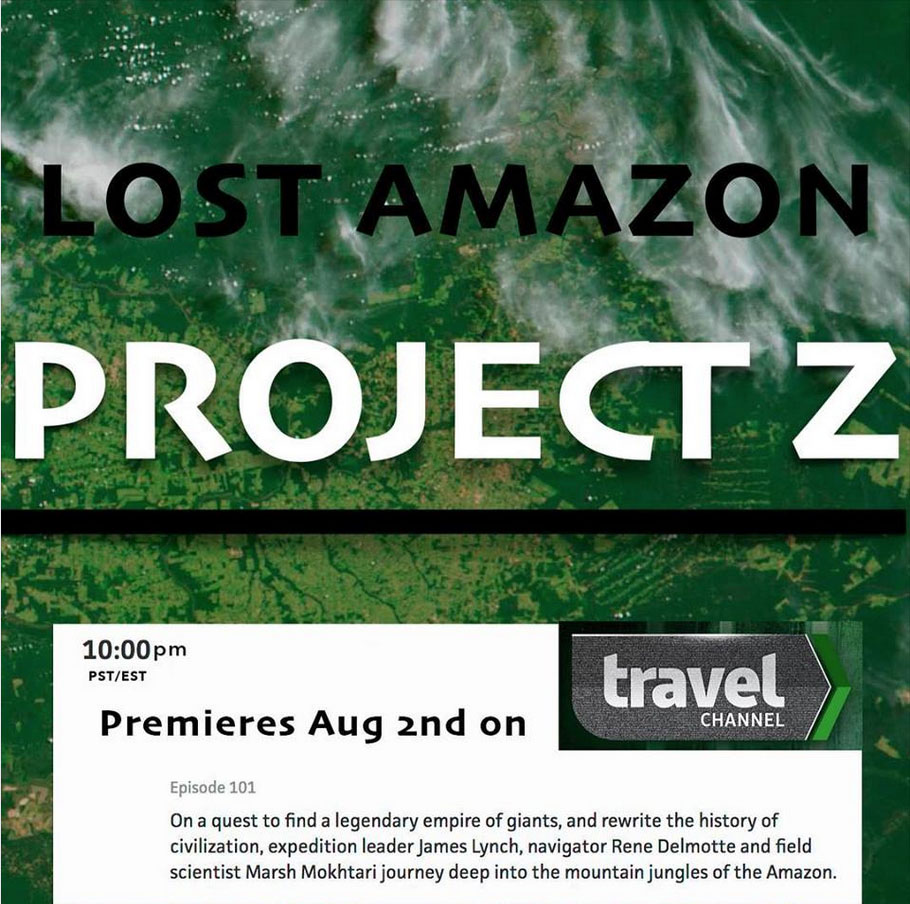 kind" cannibals. And there was the expedition three years ago that brought him closest to death, before becoming the first person to find the source of the biggest waterfall in Brazil, 300 kilometers into the jungle.
"Many had tried to reach the foot of it and failed. The first time we tried and got to the top, not the base," Lynch said. "Then we went again in dry season. I've never been so close to harm and death as on the 3km- walk to the base, between the jaguars, snakes and rocks you could fall off."
Lynch, who has pursued such adventures for more than 40 years, was born and raised bilingual in Brazil. Cotton-trading firm Anderson, Clayton and Company transferred his American-born father to its Brazilian operations in 1945. James's parents so fell in love with Brazil that they spent the next 30 years there.
His childhood was nature-oriented, filled with scouting–he made Eagle Scout–and the influences of a maternal grandfather who was a cowboy and a paternal grandfather who was a hunter and fisherman.
Lynch came back to the States for college (Texas Tech) and graduate school (Thunderbird).
He went through credit training in New York (as would his son, 40 years later), and then was assigned to Chase Brazil. "I loved the bank so much that five years turned into 20," he said. "I still think of her as Mother Chase."
His colleagues at Chase, however, thought his adventures unbankerly behavior.
"Maybe there was a degree of jealousy," he said. "I've always been of an independent mind. My adventures made the media; I was invited on the Brazilian equivalent of David Letterman. Also, bankers have a certain image, and I was not following that image. For example, I would go days without baths."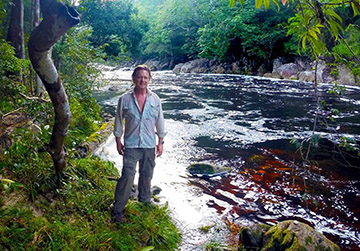 There was more overlap between his work skills and explorations than one might suppose: Both took organization, people skills and negotiating skills – i.e. once for the lives of 17 people, including his then 16-year-old son–"though I never had to negotiate for someone's life at Chase," Lynch said.
He left Chase in April 1996–the year of the kidnapping. Lynch and party were trying to re-trace the 1925 expedition of Englishmen Percy Fawcett and his son to the "Lost City of Z", a then-mythical gold-covered city deep in the Amazon jungle. The Fawcetts' disappearance was the basis of an article in The New Yorker and best-selling book by David Grann, which then inspired the movie, which Time named one of the Top Ten films of 2017. Lynch is interviewed in both the article and book.
Lynch and party never made it to "Z" because en-route they were kidnapped by a tribe of Indians and only survived by paying a ransom of gear worth some $30,000.
The Travel Channel named the program debuting on August 2 "Lost Amazon Project Z", but it doesn't have to do with the Fawcetts.
A nephew in the movie business in Los Angeles asked Lynch if he would you be willing to go back and finish his journey to Z. The nephew pitched the idea to several networks and found financing for a scouting trip. When management changed at the production company, the project was pitched to the Travel Channel, which said it wasn't interested in Fawcett but was interested in ancient civilizations. If the program airing Thursday does well, a series involving Lynch and more ancient civilizations may follow.
Thursday's program focuses on the Chachapoyas, the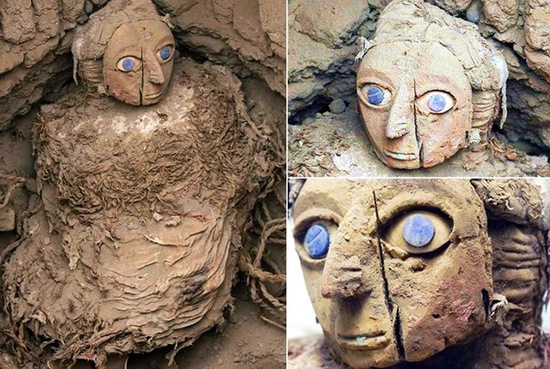 "Warriors of the Clouds", a tribe of light-skinned, exceptionally tall Andean people who lived high in the forested mountains of the Amazonas region of present-day Peru. Their civilization started in about 400 C.E. and lasted until they were conquered by the Incas in 1400. (Photo is of Chachapoyan mummies.)
As expedition leader, Lynch went down to Peru last December with three cameramen, sound men and two long-time colleagues: scientist Marsh Makhtari and navigator René Delmotte, who has been Lynch's adventure companion ever since they met in 1987 in the Camel Trophy, the "grandfather" of 4x4 adventure races. The races require endurance, teamwork and camaraderie in pursuit of adventure and exploration–probably even more grueling but far less kitschy than "The Survivor".
All the expeditions Lynch has put together have an historical background, with an objective of learning something or deciphering some mystery or myth. "We usually go to a place where people don't usually go," he said.
"I have contact with people who are somewhat isolated," he observed. "The fascinating thing about these isolated people is If you take a human life cycle–dependency, learning, terrible teens, falling in love, getting married, having kids, raising kids, growing old and dying–they have found solutions that are sometimes radically different than ours at points in the life cycle, but they work. My internal
discovery in my travels is more about how humanity and people are and it's okay to be different.
"We have such a disregard for the knowledge of these native peoples. We're the ones who are ignorant, because we don't understand it," Lynch said.
Take the Amazonian cannibals, and killing two birds with one stone in a manner that required knowledge of both genetics and nutrition.
"The jungle doesn't have a lot of animal protein. They also knew that inbreeding in the tribe would lead to weaker offspring. So they would attack other tribes to get their women, and since the rival men were useless without the women, they would use them as a food source," Lynch explained, completely non-judgmentally.
"They are a very sweet people and very short. I'm 6' 1", and they were very kind to me. If you sit there and talk for 10 days to two weeks, they become comfortable with you," he continued. "The last person they ate was in 1996 -- prospectors who came looking for gold and told not to return. Well they came a second time and then a third time..."
Or there was a tribe that didn't eat red meat, but allowed its women to when they were menstruating. "They instinctively knew that the women needed the iron from red meat."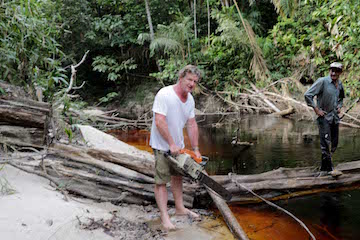 Lynch says his life has been enriched immeasurably by these encounters, as well as by all the "-ologists" who are interested in what he and his colleagues are doing. As a diver, for example, Lynch treasures the time he spent with treasure hunter/marine historian Robert Marx, and his association with the pioneering "Papa Flash"–Dr. Harold Edgerton, a professor of electrical engineering at the Massachusetts Institute of Technology who was the father of high-speed photography. "I've been touched by a lot of wonderful, interesting people," he said.
After leaving Chase in 1996, Lynch became Director General of Phoenix Strategic Financial Advisors in São Paulo. After nearly 20 years with Phoenix, Lynch moved to Miami three years ago to generate business for his own company in Brazil and live closer to his children and four grandchildren.
Lynch isn't slowing down. He recently earned certification as a personal trainer, mostly to learn about his own body and conditioning. He needs to be in shape for that next, great adventure.
Feathers, Jungle Bites
and Indigenous Peoples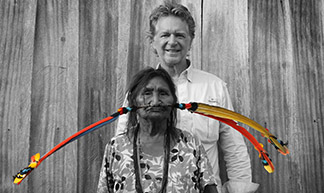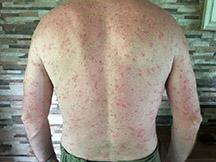 ---