In Memoriam: Mark T. Hughes, 59
Project Finance and Securities Analysis at Chase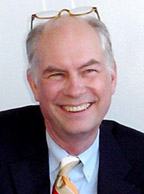 We were only recently informed of the death of Mark Todd Hughes, a 20-year veteran of Chase Manhattan, on December 20, 2011 in New York City. He was 59.
Born in Oakland, CA, he attended Oakland Technical High School and spent his junior year at the American School in Paris, which sparked his life-long love of traveling. In college, Hughes taught English in Taiwan, Hong Kong and Japan. Passionate about learning, he was, at one time, fluent in French, Japanese and Mandarin.
In 1977, he graduated from the University of California at Berkeley with a degree in history. That year, Hughes moved to New York City to begin a career in banking at Bankers Trust Company. In 1981, he joined Chase Manhattan Bank where he specialized in financing chemical companies. Moving from project finance to securities analysis in 1994, Mark was named an Institutional Investor All-Star team member in Chemicals in 1998, 1999 and 2000.
In 2001, Hughes moved to London as the head of European high yield research at BNP Paribas London. Three years later he joined RBC Capital Markets as head of high yield research in New York. He retired in 2007.
A lifelong scholar and voracious reader, he was well-versed in many fields including history, economics, physics, geography and classical music. Nestled among an impressive number of nonfiction and textbooks were hundreds of cookbooks. Inspired by the techniques and craft (and the desire to upgrade from the Stouffer's frozen dinners that had become a habit in the busy Hughes house), he taught himself to cook in his thirties. He loved to experiment with different cuisines, so dinner with Hughes was always interesting, though often served at 11 pm. Ever the consummate chef, he never did master timeliness.
He was survived by his wife, two sons and a daughter.
Memorial donations may be made in his name to the East Bay Agency for Children (ebac.org) at 303 Van Buren Avenue, Oakland, California 94610.