In Memoriam: John A.F. Dean, 68
Former Head of European M&A for Chase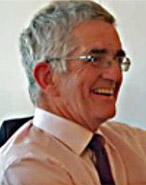 We were recently notified that John A.F. Dean, who ran European M&A for Chase Manhattan from 1989 to 1997, died in the summer of 2014 at the age of 68, five years after being diagnosed with leukemia.
A graduate of the Rugby School and Cambridge, he began his career as a market research analyst for Warner Lambert in Connecticut, followed by becoming assistant to the president of International Operations at American Optical in Strasbourg and later in Watford. In 1977, Dean joined Citicorp International's corporate finance department, later on becoming Managing Director and, for a time, European head of M&A at Citicorp in London before moving to Chase.
In 1997 he moved to a boutique financial services specialist investment bank, Fox-Pitt Kelton, which was sold two years later to Swiss Re. He remained with Swiss Re until his retirement in 2006.
He was survived by his wife, Helen, and two sons.
Remembrances
Please send tributes to news@chasealum.org
From Alan Badanes: I was aware of John's passing back in 2014. I had the privilege of working with John twice. First at Chase London, where I was in FIG and John heading M&A in the 1990s, and the second time, when I joined Fox-Pitt, Kelton in 2004. We worked on a number of deals together in UK Insurance, and with the rest of the team, helped to put Chase on the map for FIG M&A. I always loved John's dry wit, but just as much, insight into clients and business. A true gentleman, great partner and all around really nice person.