Life After Chase: Ken Kraetzer
Presenting Great People in Military, Business
via Radio, Social Media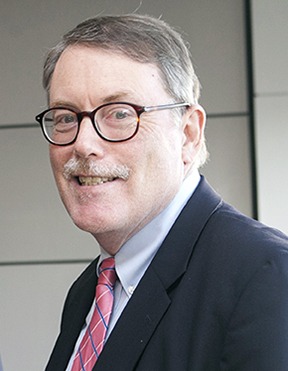 Ken Kraetzer has a day job, working for credit card marketing supplier CBSI , but he has created a simultaneous­–unpaid–career in video and radio that has given him access to remarkable people in the military and business world. (Many an alumnus may envy him for having access to all Army football games, which he covers weekly on Facebook during the football season.)
He has created nearly 2,000 videos for YouTube and generates two million page views annually on Facebook. His Talking Business, available on Youtube and Linked In and sponsored by CBSI, is a series of some 275 interviews with experts on digital marketing and customer service.
Kraetzer is particularly interested in veterans' issues, including health care, education and civilian job transition. He gets to talk about them with experts on his weekly "Sons of the American Legion Radio" program (Mondays at 2:30 pm on New Rochelle, NY-based WVOX).
Although Kraetzer never served in the military, his father was a World War II U.S. Army veteran, 91st Division, who stayed in the service through the 1960s. "I was born at the tail end of his military career, but my mother and two sisters lived with him in Germany in the 1950s," explained Kraetzer. "I do remember being at my father's retirement ceremony on Governor's Island."
Kraetzer came of age a few years after the U.S. draft ended, and although he worked out in a weight room adjacent to the ROTC (Reserve Officers' Training Corps) when he was at Providence College, no one ever tried to recruit him.
His father got him involved with the American Legion, the U.S. war veterans' organization, which led him to become active in the Sons of the American Legion" (SAL), a patriotic service organization. Father and son helped put together a World War II 60th anniversary event at the American Cemetery in Florence, Italy.
And one story leads to another.
Kraetzer did a program about the "Four Chaplains", who died aboard the military transport ship SS Dorchester on February 3, 1943. As the ship was going down after being hit by German torpedoes, the chaplains–a priest, Dutch Reformed and Methodist ministers, and a rabbi–gave up their life jackets to young sailors that they might survive. The four chaplains are honored yearly on the first Sunday in February.
Kraetzer and others from SAL discovered there was no memorial to the rabbi or any other Jewish chaplains at Arlington National Cemetery. "It took about three years and a joint resolution of Congress, shepherded by Congressman Jeff Miller, but now there's a Jewish Chaplains Monument, which we donated and that was dedicated on October 24, 2011," he said. "We are currently working on adding 25 names of post-WWII casualties to the Protestant chaplains monument, including two ministers missing in action in Korea."
SAL, along with other veteran service organizations, are working with a Washington architect to build a walkway up Chaplains Hill at Arlington. "We think we can create a new national destination. There will also be murals that tell the story of the courage of chaplains," Kraetzer said.
He gets around. He's gone to the White House and Pentagon with the West Point football team. He covers the basketball season at Iona College, where he earned his MBA, and annually he reports from the New York City St. Patrick's Day Parade.
Kraetzer has been doing his radio show on WVOX for 10 years. He's had segments with call-ins from Afghanistan and interviewed the commander of the U.S. 7th Fleet. Once an admiral on the USS Bainbridge called in from the Indian Ocean to discuss Somali pirates. "The communications officer on the ship had to turn the ship to hook up with the satellite," Kraetzer said, still in a bit of disbelief that he scored these interviews.
He attends many conferences to meet people he can interview. "Relationship building is very important. In dealing with VIPs, I've learned to try to strike a responsive chord and then walk away," he explained. "Or you might be called at a press conference. I was at one with the whole Pentagon press corps, and nobody talked about cyber defense, so I asked about it."
His wife, Kerri, is an insurance broker who also went to Providence and worked at Chase. "We
met at Chase when we were running a race with alumni teams. "She picked up a t-shirt from my office." Given that he's at West Point games most Saturdays in season, he noted that she's "very supportive".
Kraetzer worked at Chase from 1986 to 1990 under David Hill–a Navy veteran, he notes. Kraetzer managed insurance marketing to the Chase credit card file and implemented call center and statement billhead programs to expedite cross-sell enrollments. He particularly remembers how Mario Rossellini was a mentor to everyone: "Nobody nicer and more encouraging to young people," Kraetzer said.
His legacy from Chase? "I learned how you get things done in a large organization and how to get your work noticed," he said. "I always valued having worked there."
He learns from those he interviews and observes as well: "Working with West Point cadets and players–the greatest kids in the world, who I see once a week when I go to practice–I see masters of time management. There are two physics majors on the team, one who wants to be an astronaut."
This is an "h4" inverted...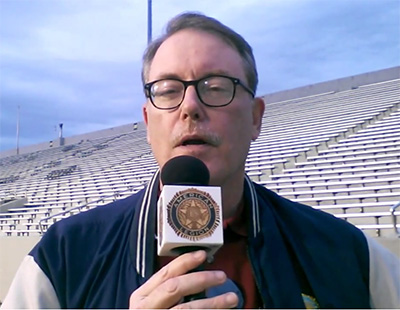 If you have a story you think might be of interest to Kraetzer for his program, contact him.
Here's where you'll find his work:
YouTube: Ken Kraetzer,
Playlist: Talking Business
LinkedIn: Ken Kraetzer
Twitter @KenKraetzer
FB: Talking Business with Ken Kraetzer
Blogtalkradio.com Ken Kraetzer
Rallypoint.com (Veterans Transistion)