Thanksgiving in Frankfurt
The Goose's Days Are Numbered!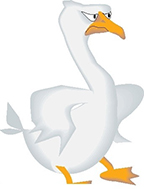 CAA Frankfurt will have its annual Thanksgiving celebration on Thursday, November 22, 2018 at Zum Goldenen Stern, Bornhohl 1, 61449 Steinbach/Ts.
So that all may get some goose, participation is limited to 20 people. First reserved, first served! The cost in advance is €35 per person for goose with abundant red cabbage and dumplings. Appetizers, dessert and drinks will be á la carte, charged the day of the feast.
To secure your place, RSVP via this form, no later than November 15, 2018. For more information, contact Birgit Wilde.
Zum Goldenen Stern aus Bornhohl