CAA NYC Reception with Art Ryan
October 23, 2018 at 270 Park Avenue, 50th floor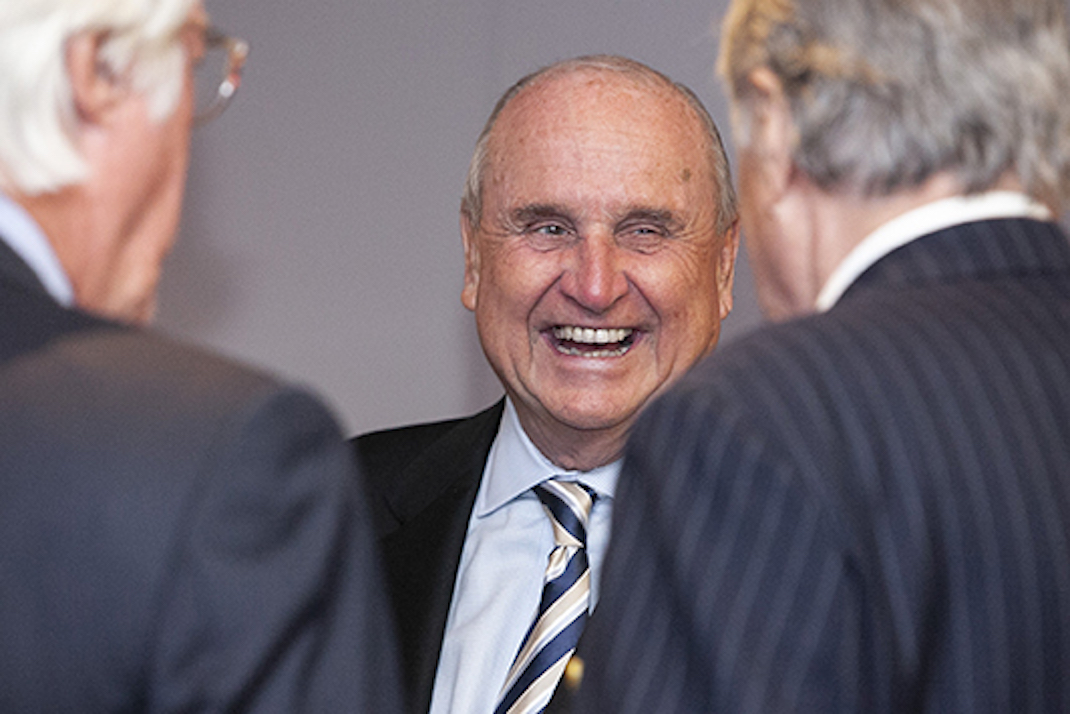 One hundred seventy-five Chase alumni said hello to former Chase president Art Ryan and goodbye to the 50th floor of the current JPMorgan Chase (JPMC) building at 270 Park Avenue on Tuesday, October 23, 2018.
JPMC will demolish the current building beginning in early 2019. A new 70-floor tower is expected to be completed in 2024.
CAA President John A. Ward announced at the reception that Ryan and Mike Esposito – whom Ward called "two legends" – would be given Honorary Lifetime Membership in the Chase Aumni Association. The only other honorary members have been Jamie Dimon and the late David Rockefeller.
A corner of the reception room was given over to a reunion of alumni who worked with or in Chase Japan. Of the 29 alumni who registered for this gathering, 27 attended.
Alumni came from as far as Hong Kong, India, the United Kingdom, Sweden, Oregon, Colorado, Florida and South Carolina.
Ryan noted that he hadn't been back to Chase "in a long time".
He explained how he learned about computers while in the Army, and came to Chase after working as a computer system designer at Control Data Corporation. Chase hired him to work in data processing, and then he went over to operations and systems. "We were not at the forefront of technology in the early years," he deadpanned, his laughter echoed by that of many alumni.
"I knew nothing about banking when I joined, but I understood the pipes," he said. "It was a great
opportunity for me to learn."
He treated the audience to a summary of the trajectory of the bank and his career in the 1970s and 1980s, including a period when he felt his "career was going nowhere". Having headed Chase's entire securities processing business, the bank's domestic wholesale operations and Individual (Consumer) Banking, he was named President in 1990, remaining until 1994, when he left to run Prudential Insurance.
"No one with my background had ever become president of Chase Manhattan," Ryan observed. "I'm convinced David Rockefeller said 'no', but later he was very nice to me."
He reminded alumni how there was a time when you had to be very quiet on the 17th floor at 1 Chase Manhattan Plaza. (An alumnus yelled out, "They had a barber on 17!) "You were not allowed to speak on that floor," Ryan recalled. "Then the world changed. First they put me on the floor, and then they put Mike Esposito in the office next to me. We were housemates, and the floor was never the same."
Photos
Dues-paying CAA members can see the photos by clicking below or on "Photos" on the home page menu. Please note the photos have been published in three batches.
Below: Mike Esposito and Art Ryan, who were given Honorary Life Membership in the Chase Alumni Association at the event.