Remembrances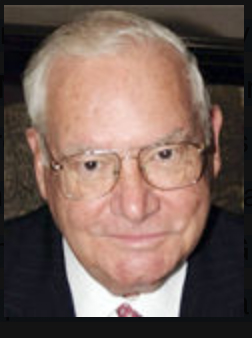 From David Banks: Jim Carey was the best corporate banker of his time.
I was very fortunate to have been able to work for him. He was tough but fair minded as well as inspirational and stood for the excellence Chase strived for at the time.
With more like Jim, we'd have taken over the world. I was privileged to know Jim and to work for him.
From Dennis Longwell: Jim hired me out of business school, but left the Bank a year later. After a decade, he re-emerged as my boss and served thereafter as a trusted mentor and loyal friend throughout my career. He was a role model for me in establishing meaningful relationships with corporate clients and in guiding and challenging subordinates. Jim was indeed a tough but fair task-master and an inspiring leader. He taught me a lot about how to be a banker.
From Jumbo Jewitt: I was fortunate enough to work for Jim Carey in the early /mid1980s. He was undoubtedly the leading corporate banker of his time, held in the highest esteem by both clients and competitors. His establishment and leadership of the Global Corporate Bank helped give us arguably the best corporate franchise in the banking industry. Jim was a demanding boss, but open to fact-based discussion and even disagreement–not necessarily a widespread trait at the time.
From Karl Schmidt: I worked in Jim Carey's Corporate Bank, and although I did not report to Jim directly, I had frequent contacts with him either to get credit approvals for the foreign-owned multinational clients I was assigned to or to take him on calls with those clients.
Jim was well liked by the bank's customers. He took an interest in their business and engaged in meaningful conversations.
Jim was always helpful to me to get things done. Also, very important, he was well known and respected in Corporate Banking throughout the United States.
In Memoriam: James Carey, 86
James Henry Carey, who served as a senior executive in Chase Global Corporate Banking, died on October 23, 2018, at his home in Manchester, VT. He was 86 years old.
A cum laude graduate of Brown University in 1953, he served as a Lieutenant Junior Grade in the U.S. Navy from 1953-1955, performing destroyer duty globally.
Carey began his career with Chase Manhattan Bank in 1955 and served as a vice president before moving to First Empire Bank - New York in 1968. He rejoined Chase as an executive vice president in Global Corporate Banking in 1976, where he managed the bank's finance and marketing activities for major clients worldwide until leaving in 1987.
Following his time at Chase, Carey held senior positions at GFTA Services Corp. and Briarcliff Financial Associates before moving to The Berkshire Bank as president, CEO and founding director from 1989 to 1992.
He also served as CEO and treasurer of National Capital Benefits Corp. from 1993 to 1995.
Carey served on the boards of directors of organizations, including The Midland Co., The Cowen Group of Mutual Funds, The Rayburn Foundation, United States Committee for UNICEF and the American Museum of Fly Fishing. He was a director of Airborne Inc., from 1978 to 2003. Following the Airborne-DHL merger in 2003, Mr. Carey was named as a director of Air Transport Services Group and chairman of the company's noard, a position he held from 2004 until his retirement in 2014.
Carey is survived by his wife, Nancy, daughter, three sons and seven grandchildren. Private services will be held. To send personal condolences, please visit www.sheafuneralhomes.com.