Life After Chase:
Mike Berman, Army Reserve Ambassador
Chemical Vet Devotes Himself to the Military (and Real Estate)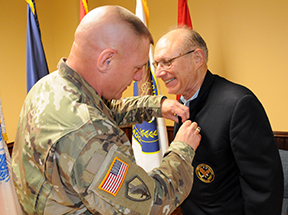 U.S. Army Reserve Ambassador Myron (Mike) Berman, Post 706–and Chemical Bank alumnus–received the Public Service Commendation Medal from Maj. Gen. Troy D. Kok, commanding general of the U.S. Army Reserve's 99th Readiness Division, during a ceremony August 3, 2018, on Joint Base McGuire-Dix-Lakehurst, NJ.

The Public Service Commendation Medal is the fourth highest public service decoration the U.S. Department of the Army can bestow upon a civilian, ranking directly below the Meritorious Public Service Medal.

Mike Berman served in the Army Reserve as a lawyer for 35 years, retiring as a colonel in 2003. His service overlapped with his tenure at Chemical (1970 to 1982), where he was a senior vice president responsible for Bank Facilities and Real Estate Asset Management (Workout).

The function of the Ambassador is similar to that of civilian aides to the Secretary of the Army, and carries a protocol status equivalent of a major general. Ambassadors are Special Government Employees who represent the Chief of the Army Reserve without salary, wages or related benefits.
As one of 100 Ambassadors in the country, he provides community outreach assistance to Army Reserve members/families, other military personnel/families as needed, and provides feedback on plans, programs and needs to the commander of the Army Reserve, the Readiness Division commander and to local Army Reserve commanders.

"Only one percent of the population has anything to do with the military," he noted. "Without a military draft, the Reserve is even more important to support as the years go on."

He joined the Reserve when he was 25 and had completed Brooklyn Law School. It was the height of the Vietnam War. "The Army didn't need any lawyers, so I joined the Reserve as a lawyer," he said, only somewhat joking that he, a man who has devoted his life to the military, was a draft dodger.

Why do people join the Reserve now? "The quality of people joining is unbelievable," he said. "People from major law firms…they join out of patriotism, particularly following 9/11, or they find it's a very satisfying way to participate in something bigger than yourself. It's not political. But people who join now know: You're going to serve in a war, be on active duty."

To some extent, he said, "Lawyer skills are lawyer skills–reading, analyzing, investigating, cross-examination. In the Reserve you get to learn a lot of fields. There's 'JAG (Judge Advocate General) Corps heaven' on the University of Virginia campus, next to and in an almost identical building to UVA Law School," he said. It's where Army JAG officers are trained.

As a member of the JAG Corps, Berman has served as a war crimes investigator, judge, defense counsel. He has provided legal assistance for soldiers with wills and matrimonial and other personal legal problems. On one of his deployments as a member of the JAG Corps, he had eight training tours in Panama and even drafted an amendment to the Panamal Canal treaty. "I was the go-to guy," he said.

Berman has served as a director of the 4th JAG Officers Association, and is former President and Chairman, and now Chairman Emeritus of the USO of Metropolitan New York. He became involved with the USO through a Chemical-Chase connection, Oliver Mendel. "Mendel was the face of Chemical in uptown community," Berman said. "Mendel was in new loan development."

Chemical was supportive of his Army Reserve responsibilities. "Chemical gave maximum time off and paid you during your military service," Berman said. "No one had better benefits than that."

His last position at Chemical was heading up the real estate workout area in the 1970s, with about 30 people in his group. His boss in the workout field was Bob Grimmig. "Every time a bankruptcy came across Dow wire, Grimmig would ring a ship's bell – as it might mean work for us," Berman recalled.

Berman wanted to try something else, though, and in 2003 formed his own real estate advisory firm for investors, BP Realty. He has had a small group of people who have invested with him over the years, including some Chemical/Chase people. He is also founder and principal of Fox Realty Consultants, Inc. and Myron J. Berman Companies. He serves on the Finance Committee and Board of Governors of the National Realty Club. One other honor: He is in the South Philadelphia High School Alumni Association Cultural Hall of Fame.

Berman and his wife have two children and have lived on Staten Island, NY since 1969. "You can't do Army Reserve without your family's support," he explained. "It cuts directly into your schedule. Every time you have to do something for the military, it conflicts with some family responsibility...They don't just recruit soldiers, they recruit families."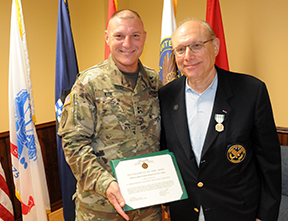 Maj. Gen. Troy D. Kok, commanding general of the U.S. Army Reserve's 99th Readiness Division, and Mike Berman.