Subway Series Tix SOLD OUT
Mets host Yankees at CitiField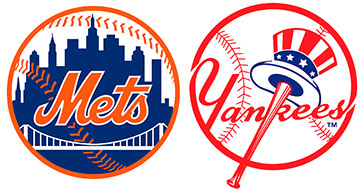 Heads up!
We have secured 40 seats (Baseline Box, Section 106) for the Tuesday, July 2, 2019 game between the NY Mets and NY Yankees. The first pitch is scheduled for 7:10 pm.
Tickets will go on sale online at noon on Sunday, March 3rd. Seats are $99 (regularly $113). You must be a dues-paying CAA member to order, and each member may purchase four tickets.
Tickets will be mailed in late May/early June.
Look Who's Coming:
No tickets are left (EDT)
Andrew Aran (4)
Andrea Axelrod (3)
Dorothea Berger (4)
Richard Boswell (2)
Catherine DeLuca (2)
Karen Gore-Aaron (2)
Meryl Kaynard (4)
Cathy Marinelli (2)
Keith Murray (4)
Catherine Reilly (2)
Brian Roller (2)
Linda Roybal (2)
Michael Stulic (3)
Pat Wilson (4)