In Memoriam: Tony Walton, 76
Former SVP at Chase Manhattan, Banking Leader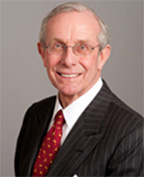 Anthony (Tony) J. Walton, who left Chase Manhattan Bank in 1982 as Senior Vice President & Chief Executive, Trade & Export Finance Group, after a 17-year career with the Bank, died in New York City on January 18, 2019 after a long illness. A former board member of the Chase Alumni Association, he was 76.
Walton retired in 2018 as Vice Chairman, Americas, at Standard Chartered Bank, and was serving as a senior advisor to the bank at the time of his death. He was responsible for overseeing the Bank's relationships with key institutional clients, including the UN, World Bank, IFC, IBD, JPMorgan and others. He played a critical role in setting the strategic direction for the Americas and in developing business between the Americas and Asia, particularly China. He had been with Standard Chartered since January 2005.
Since 1994, Walton also had headed Armstrong Holdings Corporation, a private investment company and corporate finance advisory firm he had founded, serving international clients, with an emphasis on financial services. Armstrong represented clients initiating, expanding, and selling businesses globally, with particular emphasis on People's Republic of China. Through Armstrong, he was: a co-founder and Vice Chair, Effinity Financial Corp., a successful Internet bank for affinity groups; Senior Advisor, New Hope Group of Chengdu, China; an Independent Trustee, Capital Management Equity Fund, and a board member of Xinyuan Real Estate Co., Beijing China (NYSE:XIN).
Between Chase and Standard Chartered, he served as General Manager, Americas, and a Board Member for Westpac Banking Corporation in Sydney, Australia (1983-1991), as a Partner at McFarland Dewey & Company, LLC, a private investment banking firm, as CEO of Caspian Securities Group, a private, distressed emerging markets investment bank based in London, and as CEO of the Llama Company, a private regional investment bank owned by members of the Wal-Mart Walton family.
In his 17 years at Chase, Walton also served as: Director of Multinational Banking, Europe & Middle East, London; Vice President & Area Manager /Northern Europe Region, London; first General Manager for Libra Bank, a consortium bank for LATAM; Vice President & Manager, Commercial Banking, London Branches; Manager, European Petroleum Division, and Head of the Credit Department, London.
Born in London, Walton was educated in the United States, earning a BA in English Literature from Haverford College, and an MBA from the Wharton School.
Walton was active in the non-profit world. For the Asia Society, he was a Member, Global Board of Trustees and the Global Business Council. Walton was a trustee of the Ausable and Links Clubs.
He was a board member of the Columbia Business School's China Business Initiative Advisory Board, NYC Financial Services Advisory Committee, The American Australian Association and The Volker Alliance. Walton was also a member of the Council on Foreign Relations and The Pilgrims.
An avid photographer, he often made his subject scenes near his country home in New York's Adirondacks and African wildlife.
Walton is survived by his wife, Jennifer; two sons, Charlie and Philip; their mother, Susan, and a sister. The family asks that memorial donations be sent in Walton's name to Episcopal Charities, where he was a director emeritus, or the World Wildlife Fund. A memorial service will be held in the spring.
Remembrances
Please send to news@chasealum.org.
From Joe Salsberry: Positive. Enthusiastic. Uncanny presentation skills. Absolutely uncanny!
A leader. A friend.
Worked for him during the Trade & Export Finance days, way back when. He was a people person and a consensus builder, occasionally to a fault. Great challenges. Great fun. And, even some successes! One of my best life's experiences.
Stayed in touch over the years...I will miss him.
Many experiences and stories, almost all can be shared. Almost!
Peace be with you, my friend.
From Surinder Singh: Spectacular sense of humor. Always ready with the big 'guffaw'. Formed great relationships. I worked for him functionally when I was managing Trade Banking Product Management for International Institutional. Always treated me like one of his own. Another mighty oak has fallen in the woods!
From Bob Mitchell: You never forget your first boss. And I'll never forget Tony, my boss and mentor in the European Petroleum Division at #1 Mount Street, London, 50 years ago! He and Jeff Cunn8ingham taught me international banking, and we had a great time doing it. My thoughts are with Tony and his family.
From Roger Griffin: As Bob Mitchell said, you never forget your first boss, as Tony was, In my case, as head of the Credit Department in London, having hired me from my then occupation as an auditor with Coopers & Lybrand. What a breath of fresh air, what an introduction to what was a great institution with some great people and what fun. That laugh! I count that moment as the commencement of my professional existence, and I'm grateful to Tony. We kept in touch over the years whether as a boss or as a friend–always with an anecdote, a commentary on the current scene, a question and a laugh. It always seemed incongruous to me that Tony, who was such an astute financier, manager of people up and down and all round live wire, had graduated with a degree in English Literature, but I learned not to challenge Tony on Shakespeare, perhaps a continued influence. I last saw him briefly after a long gap about three years ago when he came and stayed with us in Italy. He was the same Tony. Thank you, my friend.
From Hans van den Houten: This news was a sad moment for me personally, as Tony and I, for many years, had a friendship developed during our many years in various places in the world of business and finance. How sad to learn of his passing and how we will miss this very special person full of enthusiasm for his life and work. He contributed in full to the development of the CAA during his years on the Board, and his input and contributions were always appreciated and meaningful. Farewell, my friend, too early for you to have left this world, but you left a lot behind for us, to remember you forever!
From Peter Gross: If you read about the passing of somebody younger than your age it hurts. I will always remember Tony as the perfect gentlemen, always supportive and well meaning, and just fun to be with. We stayed in contact for the many years I worked for Chase in New York, South Africa, Singapore and Germany, and it was always a pleasure to meet with him.