In Memoriam: George C. Heinze, 73 (d. 1996)
Son Remembers 42-Year Chase Veteran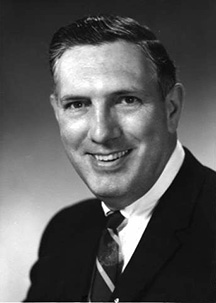 January 14, 2019: Chase Alumnus Gary G. Heinze submitted this In Memoriam for his father, George C. Heinze, a 42-year veteran of Chase, who died in March 1996 and joined Chase 78 years ago:
George C. Heinze, a former Second Vice President in the Money Mobilization Department of The Chase Manhattan Bank, passed away peacefully on March 27, 1996.
Heinze began his Chase career at Chase National Bank on January 14, 1941. Soon thereafter he was drafted and served in the U.S. Army in World War II, mostly in France. He led a medics unit and was honorably discharged as a Master Sergeant.
Heinze's entire 42-year career was in various operations departments at Chase. Of note is that he was part of the team that introduced Chase's first credit card, the Chase Manhattan Charge Plan (CMCP) in 1958. With CMCP, Chase was the first New York City bank and one of the first in the United States to offer a single retail credit card that was accepted at a network of stores throughout the city.
His son Gary is proud to say that anyone he ever met who worked with his father always commented on what a good man George was. Gary continues to wear his dad's gold Chase tie clip (for 25 years of service) with three diamond chips (one for each successive five years) to Chase Alumni receptions.