Life After Chase: Gary Rosenthal
Active with Holocaust Survivors Group in Nevada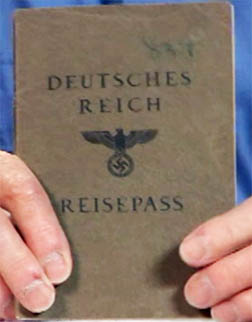 Gary Rosenthal and his Austrian Jewish family were lucky. In 1938, when he was five years old, they were able to leave post-Anschluss Vienna for France – and then New York City – even if their passports already stated that Austria was part of the Deutsches Reich (the German Empire).
His father, publisher of a pharmaceutical magazine, was able to get so many affidavits from American "Rosenthals" -- whether they were actually related or not -- that he and the extended relatives of aunts, uncles and cousins were able to make it to America.
How this was done and the adjustments his family had to make given their new financial circumstances are part of the oral history Chase alumnus Rosenthal has given to the Shoah project at the U.S. Holocaust Memorial Museum in Washington. He first began learning English in kindergarten and still speaks English with a slight Viennese accent.
Now 85, Rosenthal was hired by Chase for operations research (now called management science) but spent most of his 24-year career in software development. He took early retirement from Chase in 1994 and moved in May 1999 from Long Island to Sun City Anthem, then a new Del Webb development in Henderson, NV, a suburb of Las Vegas. He enjoys the climate there more than the gambling, which he only occasionally indulges in with very low stakes.
The development, an adult community, offers him many outlets, including two Holocaust-related clubs: a book/film club specializing in Holocaust stories, and a survivors group. (Any Jew who lived for any period of time in a country that was ruled by the Nazis or their allies is considered a Holocaust survivor. "A number of my friends here are semi-survivors – one was conceived on the boat from Germany to Argentina," Rosenthal said.) He also maintains the website for the Sun City Anthem Havurah (Friendship) Club, attending the Jewish social group's weekly luncheon. He also has a distinctively Las Vegas hobby: collecting silver strikes, or limited edition silver tokens given out by the casinos.
Rosenthal also helps neighbors with their computers and still builds his own.
Having earned a degree in electrical engineering from MIT, he began his career working for divisions of the Fairchild Group designing navigation and guidance systems and spent time as a consultant for Grumman, having segued by then into working with computers. He earned a master's degree from Adelphi in applied science and then went for another master's, from CW Post, in operations research. (He later earned an MBA as well, from the Stern School of Business at New York University.)
"I developed a couple of decent systems for the bank," he recalled. An early program combined input from different loan centers around the world into a composite. The last job he worked on was for the Foreign Exchange group and landed Rosenthal in Paris for half a year. Over the course of his career he spent most of his time at 1 CMP but also worked at 1 New York Plaza and MetroTech.
Did he ever encounter anti-semitism personally? "In high school I was once called 'you dirty Jew', but more often I encountered subliminal anti-semitism," he said. He laughed recalling how a millionaire neighbor once asked him unironically, "How come you Jews have all the money?"
Many survivors suffer from survivor guilt...did he? "At the time I was five years old, I didn't think about such things. You bury such things, but as you get older, you think more about it. I moved out here with a wife who was a daughter of survivors. She passed away 13 years ago. Eleven years ago I married someone who had parents killed in the Holocaust. Every day you get reminded of things, become more aware of things – background, history." (His first marriage, to a non-Jewish woman, lasted 20 years. He has four stepchildren from wives two and three. He met the latter, Frieda, at the annual survivors group Chanukah party hosted by Sheldon Adelson at the Venetian in Las Vegas.)
"About six years ago, the city of Vienna asked back a group of us survivors to see how things had changed. I remember asking, 'Do you still put religion on birth certificates?'," Rosenthal said. "They do."
To watch Rosenthal's oral history for the U.S. Holocaust Memorial Museum, click here.