Titian and the Renaissance in Venice
Städel Exhibit Tour & Dinner, May 9, 2019, with CAA Frankfurt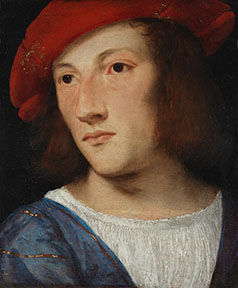 CAA Frankfurt's spring outing, a guided tour of a special exhibit at the Städel, followed by dinner, will be held Thursday, May 9, 2019.
One of the most momentous chapters in the history of European art was Venetian painting of the Renaissance. Entitled "Titian and the Renaissance in Venice", the major special exhibition unites more than a 100 masterpieces. In the early sixteenth century, artists of the "City of Water" developed an independent strain of the Renaissance relying on purely painterly means and the impact of light and colour. One of their most important exponents was Titian (ca. 1488/90–1576), who would hold the key position in the Venetian art scene all his life.
The Frankfurt show assembles more than 20 examples by Titian alone – and thus the most extensive selection of his works ever before on display in Germany. It will also present paintings and drawings by Giovanni Bellini (ca. 1435–1516), Jacopo Palma il Vecchio (1479/80–1528), Sebastiano del Piombo (ca. 1485–1547), Lorenzo Lotto (ca. 1480–1556/57), Jacopo Tintoretto (ca. 1518/19–1594), Jacopo Bassano (ca. 1510–1592), Paolo Veronese (1528–1588) and others. These works will offer comprehensive insights into the artistic and thematic breadth of the Renaissance in Venice and elucidate why artists of later centuries looked back to the art of this time and place again and again for orientation.
The exhibition introduces selected aspects of Venetian cinquecento painting in eight sections: for example its atmospherically charged landscape depictions, its ideal likenesses of beautiful women (the so-called "belle donne"), or the importance of colour. The thematically oriented chapters will together form a systematic panorama of the extensive material. Apart from the Venetian holdings in the Städel collection – including (above) Titian's "Portrait of a Young Man" (ca. 1510) – the show brings together superb loans from more than 60 museums in Germany and abroad.

Particulars:
Everyone buys his or her own ticket (which can also be purchased in advance online). Just buy a timed ticket...CAA Frankfurt will take over the costs of the guide, Pascal Hess.
The meeting point is in the foyer next to the cash register at 17:00. We then go together to the starting point of the tour in the upper part of the museum; the tour starts punctually at 17:15.
Dinner (self-pay) is planned for 19:00 at the restaurant Erbgut in Hans-Thoma-Strasse 1 (about 600 meters walk from the Städel).
Please register in writing and binding by Thursday, May 2, 2019 at the latest with Birgit Wilde.