CAA Belgium: Third Alumni Luncheon
Friday, March 29 in Antwerp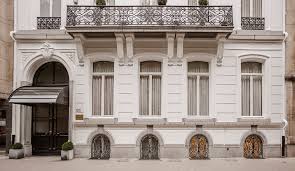 The third alumni luncheon of CAA Belgium will be held Friday, March 29, 2019 at Salons Schoeters (Belgiëlei 150, 2018 Antwerp), beginning at 12:30 pm.

Depending on the weather, the reception (with some excellent 'amuses') will be in a cozy reception room or their beautiful city garden.

The reception drinks on offer are an excellent 'Blanc de Blancs', orange juice and sparkling/still waters.

Afterwards, a three-course dinner will be served, using healthy seasonal ingredients. A Terre Des Anges (white) and Les hauts de Bel Air (red) wine, as well as sparkling and still waters, are included.

After dinner, coffee and tea will be served with cookies and sweets.

Salons Schoeters will offer (only for us!) this all-inclusive lunch for €69 per person.

To attend, please transfer payment before Thursday, March 21, 2019, as follows:
AMOUNT € 69,00
NAME of BENEFICIARY MARC SMITS
IBAN BE84 1400 3916 7859
BIC GEBABEBB
COMMUNICATION Name(s) of the participant(s)

Any alumnus who wishes to participate or has further questions should contact Marc Smits.