In Memoriam: Edward A. Farley, 95
Former Vice Chair of Manufacturers Hanover Bank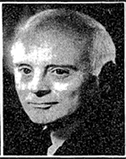 Edward A. Farley, former Vice Chair of Manufacturers Hanover Bank, now part of JPMorgan Chase, died on April 4, 2019 at the age of 95. He was a resident of Bedford, NY.
Farley, a graduate of Iona College and New York University, joined Manufacturers Hanover in 1956 as an Assistant Manager. He climbed through the ranks, becoming a Vice President in 1962 and Senior Vice President/Regional Officer in 1969. From 1976 to 1978, Farley served as Senior Vice President and Deputy General Manager of the Corporation Banking Group Metropolitan Division, and became Executive Vice President Metropolitan Division in 1978. He retired as Vice Chair and Director at the end of 1989, two years before Manny Hanny and Chemical Bank merged.
Farley is survived by his wife of 53 years, Jane Kelly Farley, a daughter, son and grandson. Memorial contributions should go to Hospice Care of Westchester and Putnam (Now VNA of Hudson Valley), 540 White Plains Rd., Suite 300, Tarrytown, NY 10591 or Our Lady of Victory School, 4755 Whitehaven Parkway, N.W., Washington, DC 20007.
Remembrances
Please send to news@chasealum.org.
From Jerry Hannon: I had the privilege, at an early point in my career, of serving a tour as the most junior member of Ed's staff in Metropolitan Division's Regional Administration. It was there that I learned what a stickler he was for accuracy and credit rationale, which served me well when I became, nearly a decade later, the global relationship manager for GM and its related companies while Ed was the Chief Credit Officer for the entire bank. Ed never gave you an overt feeling of warmth, and could put genuine fear into those who entered his office with not-well-thought-out proposals, but that was partially undone by the twinkle in his eye and very slight smile he had for those who did a good job and came prepared for his insightful questions and observations. If not for his challenging approach, I doubt that I and other senior MHT bankers would have succeeded with our objectives for major multinationals and continued through mergers with Chemical and Chase. Ed was a treasure, and I missed him after he retired.