A Moment in Bank History
Nat Queen, OSJ, and Chemical Bank's 1970s Diversification Effort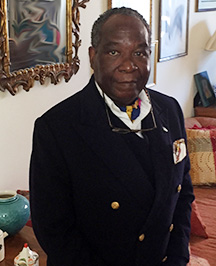 While Nathaniel Queen, Jr.s life was changing rapidly in the late 1960s and 1970s, he was helping Chemical Bank change at the same time.
It's a moment in bank history he wants people to know about "before the folks who made it happen are all gone".
"Chemical Bank changed my life because I was a neophyte on Wall Street," he said. "But how did I change Chemical Bank? I helped lead a very important effort toward integration on Wall Street. The caliber of people we brought into the bank from minority communities – prep school and Ivy League-educated – without setting up a two-track system was important for industry as well. Chemical Bank–it was the pioneer."
Queen, now 64, grew up in Manhattan Valley, a New York City neighborhood in the shadow of Columbia University, way before it was chic to live on the western side of Morningside Park. His mother, whose father founded a Baptist church in Jackson, MS, was a housewife who later ran the page program at Manufacturers Hanover. His father, from a Roman Catholic family from Maryland, worked for Spanierman Galleries Antiques and then became a community organizer in Washington Heights.
Queen was tapped for a special public school for gifted children on the beautiful neo-Gothic campus of the City University of New York. He then went on to an intellectually gifted class at a neighborhood junior hight school. One of his teachers there suggested that he go to a secondary boarding school. He was admitted in his freshman year to the Lawrenceville School, not far from Princeton University. His parents liked the idea. Queen was one of only three African-American students among the 200 students of the Class of 1973 at Lawrenceville.
Queen flourished there. He became a student council leader, editor of the school's weekly newspaper and officer of many extra-curricular organizations. Even today, he is Class Secretary and godfather to the children of several "big name" classmates. "I wasn't messed with at Lawrenceville. I demanded and got respect," he said. "I differed with a lot of black students who wanted to 'self-segregate'. I didn't want to."
A family friend who worked at Chemical Bank realized that the rising ninth grader Nat Queen would need a job for the summer of 1970. Chemical Bank was participating in the Job Opportunities in the Business Sector (JOBS) program, a joint effort of the public and private sectors begun in 1967 out of the anti-poverty movement of the 1960s, to develop on-the-job training programs for the
disadvantaged. Through the program, Chemical hired Queen.
"I was the guinea pig," he recalls. He worked at 20 Pine Street in the International Division. Queen was responsible for Nostros and Vostros Account Notification. ("In those early computer days, a hard copy printout was delivered every morning to my desk. I then had to call our correspondent banks alerting them to their positions vis-a-vis Chemical at the beginning of the day and before accounts were settled at the Clearing House.")
He was invited to be an assistant instructor at Chem's JOBS Training Center at 770 Broadway the next summer, working with the instructors who were training minority individuals new to the workforce in "such basic skills as English, math, business terminology and decorum". The next summer, Chem hired him to teach English and business communications skills. He was also the lead researcher in a study following up on how the JOBS employees integrated into the Bank, the longevity of their employment and characteristics such as levels of absenteeism and reasons for this occurence.
The following summer, after graduating from Lawrenceville, Queen was assigned to College
Recruitment at 20 Pine Street as the initial screener of resumes via post and responsible for a retention study of the official staff.
This was all before his senior year in prep school.
After graduating from Lawrenceville, he was put in charge of Chem's summer JOBS program at 55 Water Street.
He went straight to Harvard, where he would major in American History and Fine Art…with what you could call a minor in Chemical Bank recruitment.
The summer after his freshman and sophomore years at Harvard, Queen managed Chem's summer JOBS program. That second summer, he assisted in the establishment of Chemical's Summer Intern Program designed to bring minority students from the same prestigious colleges that the mainstream management trainees came from–people like Nat Queen.
"I was not the first black, but the first black preppie, the one who had the same credentials as the other trainees," Queen continued. "They had some black officers who came through metro offices, but virtually none on the institutional side of the business." Prominent alumni of the Summer Internship Program include Raymond McGuire, Global Head of Mergers & Acquisitions (Citibank), former Massachusetts Governor Deval Patrick and career diplomat Sandra J. Ingram.
"Soon thereafter, they thought I should run the program, as we needed to recruit blacks into management positions. "At Harvard, I would go to economics class in a three-piece suit and then fly back and forth to New York," Queen said. From June 1976 to September 1977, he traveled to the Ivies, prestigious small liberal arts colleges, and schools like Wharton, Tuck and the University of Chicago to recruit prospects.
"I was part of the special team that visited Harvard Business School during a period that was the beginning of the shift towards hiring MBAs, and HBS was a prime recruitment school," he explained. Harvard undergraduate Nat Queen's teammates in that effort included the Donald Platten, the bank chairman, Vice Chairman Richard LeBlond, and other senior bankers from the Corporate and International Banks.

When Queen assisted in the establishment of the Special Recruitment Unit, his boss was Tom Barile. They were given a mandate to have a separate minority focused initiative, reporting to Richard Price, who headed Management Recruitment in the then-called Personnel Division.
"I was still in college when I was called to the 4th floor at 20 Pine St. to make a presentation to the board on minority recruitment," he said. At the time, Chemical's board had its first and only minority member, Franklin Williamson.
Queen took off a term from Harvard to execute the special recruitment effort, and Chemical made him an Officer's Assistant. He received his degree in January 1978, and was made an assistant manager. (He believes he was the youngest AM in the Bank's history.)
In July 1978, he entered the Management Training Program at 55 Water Street Unique as an officer, just out of university. Two months later he joined the Corporate Bank (Energy & Minerals Division) at 277 Park Avenue, and was placed in charge of credit trainees.
In September 1980, Queen was granted a leave of absence to become director of development for the National Action Council for Minorities in Engineering (NACME), and elected an Assistant Treasurer in absentia. "At that point I was interested in becoming a banker, but I saw a glass ceiling," he said. He did not return to Chemical after NACME, instead developing and running an Office for Corporate Sponsorship at CARE, where he built connections with major business leaders.
After five years at CARE, his old boss Tom Barile, now running his own executive search firm, offered Queen a chance of a lifetime: Move to London and build my European business. Queen would move to London in 1989.
It was an extraordinary period for him–flying so often that one time he had to call a hotel operator to ask what city he was waking up in. His life in London was also extraordinary. He began to buy landscapes by English painters who were members of the Royal Academy, and the paintings filled the house he had in Chelsea. (He's eventually giving his collection of 50 paintings to Lawrenceville.) He became active in the Anglican church, giving so much time to charities that he was awarded an OSJ (Order of Saint John of Jerusalem Knights Hospitaller, an order in the personal gift of Her Majesty the Queen).
Then, in 2002, Queen suffered two heart attacks, and he had to stop working. He returned to New York, was baptized an Episcopalian at St. James Church, and became involved with New York's Cathedral Church of St. John the Divine, where he has been a member of the Vestry, head of the Acolyte Guild and is a Eucharistic minister. He divides his time between New York (his mother is a healthy 87) and a London flat he rents from Christ Church.
He's not sure what the future will bring – work projects might make him commit to either New York or London -- but the past brings him great pride, knowing he made a bit of Chemical Bank history that paved the way for others.
A New Series
Do you have a story about something you did at Chase (or Chemical, Manufacturers Hanover or the other heritage banks) that helped change the way business was -- and is -- done? Do you want that bit of bank history preserved? Contact Andrea Axelrod at news@chasealum.org.
COMMENTS? Also write to Andrea...
From Ralph Aiello: (Around the same time)
Chase Manhattan also had a minority recruitment program for minority candidates. Some of the universities that I can remember were: Howard University
, Florida A&M,
Spelman College. Morehouse College
. Emory College
and Southern University.
We also had a recruitment program for Military Officers who were being discharged. Many of those candidates we placed in the Bank Operations Training Program. Emphasis was also placed on minority candidates graduating from the other universities and colleges that were other schools that we recruited at. I recruited at Syracuse University, University of Rochester, SUNY at Albany, St. Lawrence University, Rochester Institute of Technology, Fairleigh Dickinson, Princeton, SUNY Buffalo, Catholic University and St. Bonaventure. Those of us in Human Resources that worked in the College Relations Department, as well as my recruiting for the retail bank program (CDP), were always on the lookout for minority candidates.