In Memoriam: James A. Therrien
Chase's Man in Colombia in 1970s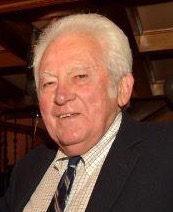 George Reeves informed us that James A. Therrien died on April 8, 2019 in Bogota, Colombia, where he resided.
Therrien served at Chase for many many years in executive management positions in Latam. When Reeves joined the bank in 1977, Therrien was a director of Banco del Comercio as well as the head of the South America West Region, which covered the Andean Region.
Reeves recollects that the Western Hemisphere Region was headed then by Francis Mason (r.i.p) and the International Department by Francis X Stankard.
Remembrances
Please send to news@chasealum.org.
From Gary Barrelier: Very sad to read in CAA's newsletter about Jim's passing away.
I had the distinct privilege of knowing and working with Jim both in the Panama Branches and in Banco del Comercio, Chase's affiliate in Colombia, when he became their CEO and I was asked to help him convert their old organization to a modern Consumer Bank, following Paul Tongue's, Joel Epstein's and Peter Holzer's ideas.
A thorough "gringo" who became a thorough "latino", with impeccable domain of Spanish, Jim was down-to-earth with peers and subordinates and one of the nicest and easiest guys to work with. Very sharp, caught on and executed immediately. No time wasted.
My best regards to his wife and other relatives. He was one of the best!!
From Robert Blocker: Condolences. Good friend.
From Manuel Peña-Morros: Jim was a very special individual. He was strong-willed and a well-rounded banker, and he proudly carried with him the Chase logo. I had the honor of meeting Jim and his wife Solveig as a teenager when, in the early 1960s, Chase opened its branches in the Dominican Republic.
In 1978 our paths once again crossed when I was transferred to Colombia. I reported to Jim when he was the regional manager for the South America West countries until 1984, when he was asked to manage Banco del Comercio, an old Chase affiliate which experienced financial difficulties.
Jim was lovingly regarded as the "Zorro Blanco" (Silver Fox) and "Jefe Pluma Blanca", or Chief White Feather. He was undeniably a great human being whom we will miss immensely.
From Gabe Caprio: Jim was a unique and very likable guy. A real personality to say the least. I mirror the comments made by my other associates. Sorry for his passing. Another sign of the end of a wonderful era.
From Peter Larr: First met Jim in the Chase SDP during 1961. He was an usher in my wedding. Stayed in close touch ever since. Jim was a fine banker and, as some of us knew, a fine patriot at the same time. He was always discrete about the latter. The head of HR for the CIA confirmed to me Jim's many contributions. Last saw him in Bogota. The world is a lesser place without him.