In Memoriam: Richard P. Urfer, 82
Former COO of Chase Manhattan Capital Markets Corporation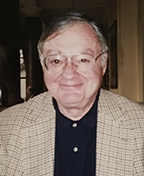 Richard P. Urfer, former Chief Operating Officer of Chase Manhattan Capital Markets Corporation, died on March 30, 2019 at the age of 82. He was a long-time resident of New Vernon, NJ.
Mr. Urfer was active in international finance throughout his career, starting with Morgan Stanley in the 1960s, when there were fewer than 100 employees, including Mr. Morgan. He subsequently assisted a number of commercial banks develop investment banking units in New York. These banks included Chase Manhattan, Deutsche Bank, UBS and BW Bank.
He was involved with three seminal events in international finance over the last half century: the creation of the Euro bond market and subsequent international capital market; the creation of the floating rate international monetary system, and the creation of interest rate, currency, and commodity derivatives.
The creation of the Euro bond market was largely the result of U.S. capital controls put in place under President Lyndon B. Johnson to reduce the country's current account deficit and help stem the flow of gold out of the United States. Mr. Urfer, in a sub-cabinet assistant secretary position, was responsible for the Foreign Direct Investment Program under President Nixon, and Paul Volcker was responsible for the Interest Equalization Tax ("EBT"). Mr. Urfer's program, in effect, forced U.S. companies to finance their foreign direct investments from sources outside the U.S., and the IET blocked foreign securities issues in the United States.
The center of the world's international capital markets then shifted back from New York to London in the form of the Euro bond markets, largely demonstrated in offshore, Euro dollars and which then evolved into the current international capital market. Before these programs were rescinded, President Nixon took the dollar off the gold standard and the world's monetary system was changed from a fixed currency rate basis to the floating rate basis, which is still in effect. Mr. Urfer then served the Ford and Carter administrations as a member of the US Treasury's advisory committee on international investments.
He was later a key figure in the development of the interest rate and currency derivatives markets as COO of Chase Manhattan Capital Markets Corporation (1982-1988), and commodity derivatives as CEO of RP Urfer and Co., which was a pioneer in this market.
Beginning his education in a one-room schoolhouse on his family's farm in Wisconsin, Mr. Urfer went on to graduate from the University of Wisconsin, where he was president of his graduating class, and to earn an MBA from Harvard Business School.
He served as an infantry company commander in the U.S. Army in 1959.
He had a longtime association with the Salk Institute for Biological Studies. First, as an advisor to the President, then as a founding member of the international council.
He was a director of numerous corporations over the years, and a trustee and investment committee chairman of the Community Foundation in New Jersey. He ended his 60-year career as president and CEO of BW Capital Markets, Inc.
He is survived by his wife, Cynthia, three children and seven grandchildren.
Remembrances
Please send to news@chasealum.org.
From Robert P. McDonald: Dick made my transition back to New York after nine years in London much easier than it might have otherwise have been. A true gentleman with significant life accomplishments, he was fun to be around and greatly respected by our colleagues. My sympathies to his large and loving family.