In Memoriam: Felix Beck, 93
Chair Emeritus of Chase Home Finance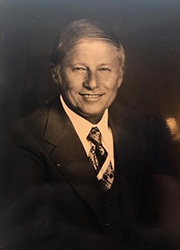 Felix Beck, 93, chair emeritus of Chase Home Finance from 1994 to 2009, died on March 26, 2019. A resident of Boca Raton, FL, he formerly lived in Livingston, NJ.
Beck was Chairman and CEO of Margaretten Financial, a mortgage banking firm listed on the NYSE, from 1992 to 1994 and before that was Chairman and CEO of Margaretten, a subsidiary of Berg Enterprises since 1969. From 1957 to 1969, he was Executive Vice President of J.I. Kislak Mortgage Corporation.
Beck was President of the Mortgage Bankers of America in 1983 and 1984. He was on the Board of Directors of The Federal National Mortgage Association from 1985 to 1996. He was a vigorous testifier in Washington on mortgage-related issues and was instrumental in the introduction of the adjustable rate mortgage.
He served 17 years on the Board of Governors and Board of Trustees at his alma mater, Rutgers University, where he received the Distinguished Alumni Award in 1998, having earned a BS in 1950 and an MBA in 1953 there.
Beck was a staunch supporter of the United Jewish Federation, the Mental Health Association, Paper Mill Playhouse, Rutgers University and Temple Beth Shalom in Livingston, NJ.
Beck served his country during World War II, where he was the youngest 2nd Lieutenant in the U.S. Army.
Beck is survived by his wife of 68 years, Doris, the former Mayor of Livingston, two sons, four grandchildren and two great granddaughters. He was predeceased by another son.
Memorial donations should be made to the Rutgers University Foundation.