CAA Belgium
Third Reunion Luncheon in Antwerp, Friday, March 29, 2019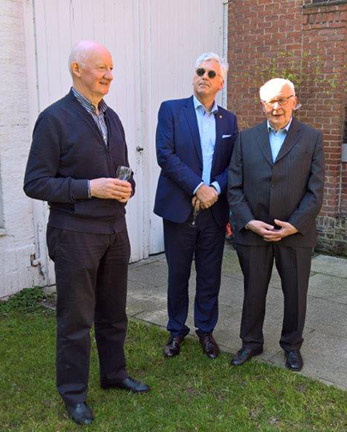 Click here to read Josse Borreman's presentation at the luncheon:
Certificate 114
, or which Chase subsidiary lay the foundation for the United States to become a prime credit risk?
From Marc Smits: A History of CAA Belgium and Chase Belgium
From the early 1970s, Chase Manhattan Bank NA integrated its Belgian entity in its worldwide banking group. In this context, a specific Chase Training program (investment & corporate banking) was set up to attract successful university graduates and high potential members of staff.
This program was initially set up in Belgium (a blueprint of the London program) and from 1977 onwards candidates were sent to the London and New York CTPs. After graduating, most of these candidates remained working in the banking sector or pursued careers in the public and/or private sector. Over time, their Chase experience morphed into an informal network, but as several of them retired in the past years some thought it might be useful to set up an ad hoc Chase Alumni reunion.
As a result, we got for a third time together on 29 March 2019 starting at 12.30. After the reception in the garden of Salons Schoeters in Antwerp, lunch was served and the last attendees remained till 16.45. Most of the attendees were graduates from the CTP-programs and have worked for the Chase organization in Europe, Africa, Asia and the USA.
Josse Borremans gave an inspiring speech on the contribution of the 18th century founder of Chase Belgium for the world of financing and particularly the credit risk of the USA.
Again all participants requested an 'encore' and as such we will consider to organize a new session in 2020/2021.
Chase Belgium History
It all started when the Chase Manhattan Bank NA, in a first step in the early 1970s, purchased 50% of the shares of Banque de Commerce S.A. from Chase's Belgian correspondent bank, Bank Brussel Lambert N.V.
Banque de Commerce S.A. was established in 1747 as Banque De Wolf in the City of Antwerp. The bank was active mainly to finance trade and governments in Europe, but the bank was also a money provider for the newly established United States at the end of the 18th century. Banque De Wolf continued to prosper in the 19th century. The bank went public on the Antwerp Stock Exchange and changed its name in Banque de Commerce S.A.
In the early 20th century, Barclays Bank started to buy shares of Banque de Commerce S.A. and later on Banque de Commerce S.A. became partly owned by Barclays Bank. After World War II, Barclays Bank divested on the European continent and sold its shares in Banque de Commerce S.A. to Banque de Bruxelles S.A. In the 1960s, Banque de Bruxelles merged with Banque Lambert and the newly created bank was named Bank Brussel Lambert N.V.
At the end of the 1970s, Chase bought the remainder of shares of Banque de Commerce S.A. and as such became owner for more than 99% of Banque de Commerce S.A.
Francis Mason was the first Chase officer to be appointed CEO of the bank. He was later succeeded by a.o. Bill Rowan, Dominique Clavell and Joseph Robinet. At the beginning of the 1980s the bank changed its name in Chase Banque de Commerce S.A. and a Chase branch was also established.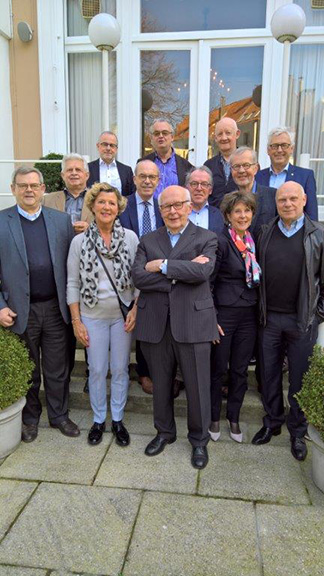 1st row Marc Smits, Annette Vermeiren,
Josse Borremans, Anne Leclercq, Leo Janssen
2nd row Ronald Potvin,Jean Louis Appelmans, Theo Peeters, Ignace Vandenbulcke
3rd row Redgy Adriaens, Guy Pas, Carl Minten, Alex Bongaerts.