In Memoriam: Paul Volcker, 92
Famed Economist and Former Fed Chair Also Worked at Chase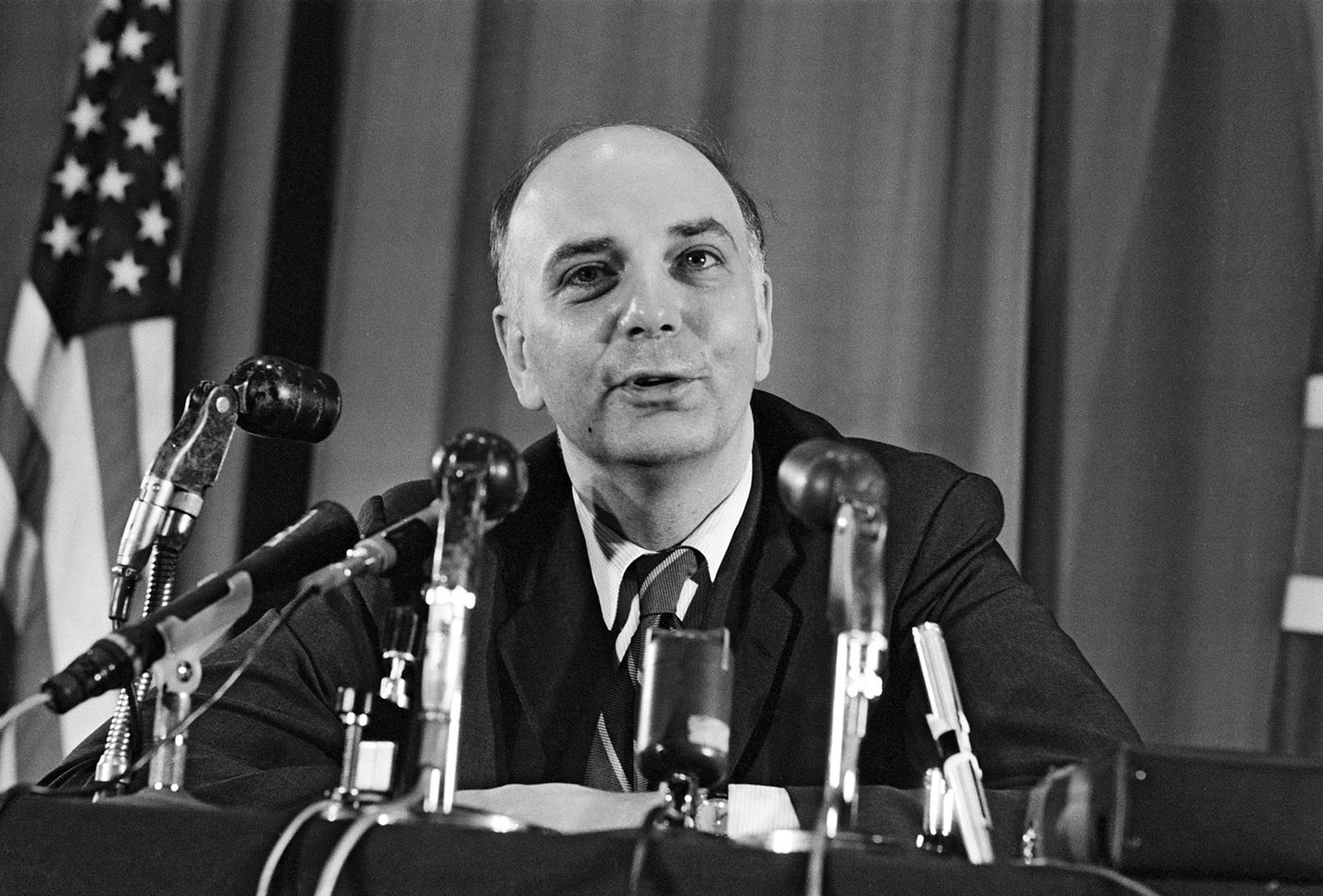 Paul Volcker, the former chairman of the Federal Reserve who spent two stints at Chase Manhattan amidst a storied career in the public sector, died in New York on December 8, 2019 at the age of 92.
He leaves behind his wife, Anke, daughter and son, four grandchildren and two great-grandchildren. The memorial service will be held on December 17 at 12 noon at The Madison Avenue Presbyterian Church at 921 Madison Avenue, New York, NY 10021. In lieu of flowers, contributions in his honor can be made to the Volcker Alliance, created
to advance effective management of government to achieve results that matter to citizens
.
(The following is his official bio as posted on the Federal Reserve History website.)
Volcker was born in Cape May, NJ. He received a bachelor's degree from Princeton University and a master's degree from Harvard University Graduate School of Public Administration. Throughout his career, he also received honorary degrees from numerous institutions, including Adelphi University, University of New Hampshire, and Dartmouth College.
Volcker first served the Federal Reserve as an economist from 1952 until 1957, when he left for a position with Chase Manhattan Bank. In 1962, he became director of the Treasury's Office of Financial Analysis. The following year Volcker transitioned to deputy undersecretary for monetary affairs. In 1965, he left public service to return to Chase Manhattan Bank as a vice president and special assistant to David Rockefeller, then chair of the Bank. He remained with the firm until 1969, when he rejoined the Treasury as undersecretary for monetary affairs. During his five years in the post, Volcker brought about many changes to the international monetary system. In 1974, he left the Treasury for Princeton, where he was a visiting fellow.
In August 1975, Volcker was named president of the Federal Reserve Bank of New York. There, he was actively involved with monetary policy decision making processes and became a proponent of monetary restraint.
Following a sharp rise in inflation between 1978 and 1979, President Jimmy Carter shuffled his economic policy team and nominated Volcker to become chairman of the Board of Governors.
In his first term, Volcker focused on reducing inflation and conveying to the public that increased interest rates were the result of market pressures and not Board actions. He raised the discount rate by 0.5 percent shortly after taking office. Volcker also monitored the debt crisis in developing countries and supported the expansion of the International Monetary Fund's reserve fund.
During his second term, Volcker made expanding the money supply without increasing inflation his priority. He also gave greater attention to structural reform of the Board of Governors, which involved protecting the Federal Reserve's regulatory authority and restricting commercial banks' activities that were considered risky. Volcker opposed giving commercial banks the ability to underwrite corporate securities and take part in real estate development.
After leaving the Board of Governors, Volcker served as chair of the National Commission on Public Service. In 1988, he became chair and part owner of James D. Wolfensohn, an international financial services firm. From 2000 to 2005, Volcker was chairman of the Board of Trustees of the International Accounting Standards.
Volcker also served as a chairperson of President Obama's Economic Recovery Advisory Board from 2009 to 2011. In that role, Volcker made a significant contribution to the Dodd-Frank Wall Street Reform and Consumer Protection Act by introducing the "Volcker Rule." The provision prohibits banking entities from engaging in proprietary trading in securities, derivatives, or certain other financial instruments and from investing in, sponsoring, or having certain relationships with a hedge fund or private equity fund.
Volcker was a member of numerous public policy organizations, including the Japan Society, the Institute of International Economics and the American Assembly.
For additional obituaries: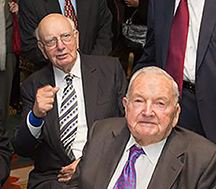 Volcker with
David Rockefeller