Remembrances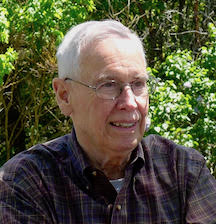 A celebration of Preston's life will be held at 11:30 AM on Saturday December 28, 2019 at Chatham United Methodist Church, 460 Main Street, Chatham NJ. A reception will follow at the church.


From Joe Murphy: Sam was someone to invite to a meeting.
Sam possessed a dry, wry sense of humor. Disarming.
For about 15 years, our careers and assignments at Chase crisscrossed, principally in Domestic and International Institutional Banking. When there was a thorny performance issue, particularly with Operations and an FI client, Sam was at his best. He not only focused on the desired outcome; he maintained order by not taking sides. Anyone silly enough to defend their turf found that Sam had a shovel to dig through any obstacles or obstinate participants.
Sam never shared his IQ. It must have been the highest of anyone in the room.
Rest In Peace.
In Memoriam:
Sam Preston, 77
CAA mourns the death of longtime member Samuel Bradford Preston, who died on December 6, 2019, surrounded by family after a brief illness. He was 77 and lived in Piscataway, NJ.
A member of Mountain Lakes High School's Class of 1960, Preston graduated from Washington & Lee University (Virginia) and earned an MBA from the University of Pennsylvania's Wharton School. He served in the U.S. Army, receiving an honorable discharge as a First Lieutenant.
Upon graduation from business school, Preston spent one year on a Woodrow Wilson Fellowship assisting the business department and teaching at Prairie View A & M, a historically black university in Texas.
He was at Chase Manhattan Bank from 1974 to 1996, working in Corporate Treasury, Regional Banking, Infoserv/wholesale Products, Domestic Institutional, International Institutional and Operations. He also worked for Salomon Brothers, Rabobank International, NIB Capital and NSM Capital. In retirement, as an Adjunct Professor of Business Ethics at New York University's Stern School of Business, Preston was able to share his vast business experience.
In 1975, Preston and his family settled in Chatham, NJ, where they lived until 2007. He enjoyed coaching his sons' soccer and lacrosse teams and was an active member of Chatham United Methodist Church, where he served as President of the Trustees and in other leadership roles.
While working in The Hague, Netherlands, Preston led the American Protestant Church of The Hague's new building search committee.
Among his survivors his wife of 49 years, Rev. Frances Preston, four sons, and five grandchildren.
Donations in lieu of flowers may be sent to the Chatham United Methodist Church, 460 Main Street, Chatham, NJ 07928.