Remembrances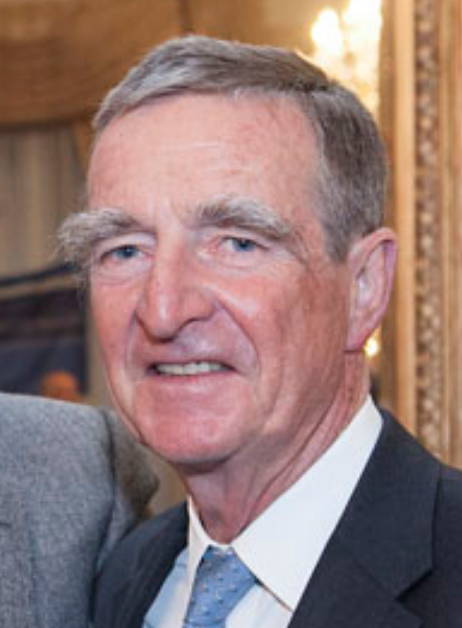 From Manuel Peña-Morros: Having learned with sadness of the death of Brian, my family and I offer heartfelt condolences to his family, friends and, particularly, to everyone who knew him. Brian was a profesional, highly knowledgeable of Latin America and a friend of friends. We appreciated with gratitude his years of distinguished service at Chase and his expert contribution to our Latin America business. I met Brian in Bogota, Colombia, in the late 1970s, and we crossed paths throughout our careers at Chase until 1998, when I retired.
From Steven Puig: Latin America will miss having Brian in his U.S.-annointed role as EVP at the IDB, especially in these confusing times for international relations with the United States. Brian was among the few non-regional bankers who dedicated the bulk of their careers to Latin America, in his case not only executing creative landmark deals, but also focusing on the region's development. I had the pleasure to coincide with Brian at Chase and the IDB, and to be a client while he was at Lazard.
From Cynthia T. Vega: Hearwrenching news! Brian was my mentor and personal friend. I first met him in 1992 on my first day of my second "term" at Chase after business school. I learned a great deal from him. His knowledge of and contacts within the private and public sector in the region was impressive. He was held in very high esteem. On a personal level, I will always cherish the fun times and our mutual love for tennis, French food and wine. Despite the fact that he portrayed a tough, dry exterior to some, he also had a huge heart, was quite sensitive and cared deeply for his friends and family. Patrick, his son, was the most important and he was so proud of him. Brian will be missed.
From Rafael Villasante Guzman: Que triste noticia. Sin duda un gran profesional y una excelente persona.

From Victor Josebachvili: Sad news indeed. I had the pleasure of working with him at JPM and Chase for many years and will never forget him!
From Carlos Heighes: Muy triste escuchar que otro de nuestros colegas se va. Brian era un eterno enamorado de la región y buen amigo con el grupo de Latinos.
Lo recuerdo bien y quedarán las buenas memorias de su amistad. Por favor hazle extensivo mis condolencias a su familia.
From Gustavo Dominguez: He was such a key figure in the foundation of Latam E M investment banking in the 1990s and ealry 2000s. He will be sincerely missed. My sincere condolences to his family and closest friends.
From Kenneth Kryzda: So sad to hear! A good friend and colleague for more than 20 years. Our thoughts and prayers are with his family, RIP
From Susana de la Puente: He touched so many of us with his generosity, his intelligence, his strength and his joie de vivre and unique sense of humour! We will miss him very very much!! His premature and sudden departure makes us thing about how fragile we all are and how lucky we are !!!
From Timothy W. Davis: This is terribly sad news. Brian was a wonderful man, a terrific father to Patrick, and a very intelligent and sophisticated professional. He was also a very dear friend, and I'll miss him very much.
From Orlando Sacasa:

Muy triste la noticia de Brian. No nos conocimos mucho mientras estábamos en el Chase, pero si en esta última década, ya que ambos participábamos en el David Rockefeller Center de Harvard. Muy simpático y regia persona. Lo extrañaremos.
From Harry Tether: Such a rush of memories and emotions. We had worked closely together for years in Chile and Argentina, where he did some creative and outstanding work for Chase. Brian was always the client's first choice.
From Robert P. McDonald: I met Brian in 1983 after nine years in London and upon returning to New York, was charged with building a nascent investment banking presence in Latin America with zero personal exposure to the area.
Brian immediately grasped where our small group was headed and embraced, participated and promoted our efforts. He was a natural leader to whom others gravitated and had an uncanny sense of finding the "deal" and creative ways to ensure its closure.
Our paths also crossed later on in Washington when Brian was at Treasury and I was with the Red Cross.
Brian will be sorely missed by his family, friends and colleagues and remembered as one of the most significant contributors to the footprint that JPMorgan Chase presently holds in the Western Hemisphere.
From Jim Peyman:

Very sad to hear the news about Brian. I had a wonderful opportunity to lead the Latin America Operations and Systems team from 1988 to 1991. Brian was a terrific person and a true professional in everything he did. His business knowledge coupled with his calm and respectful demeanor made it a pleasure to know him.
From Tony Singleton: Brian will be missed but not forgotten. A leader who included all in his business and someone who had a sense how to get things done. My condolences to his family.
From Christopher Garnett: I learn with great sadness of the death of my friend and offer my deepest condolences to his son and the rest of his family. I first met Brian in Buenos Aires in 1993 — and last spoke to him about a year ago, when he was chucking a little over the aborted IDB China meetings! He was a kind and noble man: always willing to help; a great conversationalist and entertaining companion. I'm sure those mourning him number thousands.
From Alexandre Chenesseau: I learned about Brian's passing through former colleagues of mine. I would like to express my condolences to his family and friends. I had the opportunity to work with him and one of his clients at Lazard. He struck me as very kind and knowledgeable about Latin America. He was a very respected professional and one could only witness the long and authentic relationships he developed with his clients.

In Memoriam:
Brian D. O'Neill, 66

Brian D. O'Neill, 66, former chair of Chase's investment banking for Latin America and Canada, died on December 20, 2019, at his home in Jackson Hole, WY. At the time, he was executive vice president of the Inter-American Development Bank (IDB), which he had joined in January 2019.
Luis Alberto Moreno, IDB President, said, "His affable nature, his vast knowledge and experience as a leader, his contagious laugh and his deep understanding of Latin America and the Caribbean were an inspiration. Brian was passionate in his belief that people, institutions and the private sector can work together to overcome humanity's biggest challenges. His keen intellect and strategic vision helped the IDB to become a more effective institution."
Before joining the IDB, he spent more than nine years at Lazard, as vice chair and then as a senior advisor.
O'Neill served as Deputy Assistant Secretary in the U.S. Treasury from 2007 to 2009. For a five-month period in 2008, he served as acting U.S. Director at the IDB.
He worked at Chase from 1977 to 2007, spending 12 years in Argentina, Brazil and Chile.
O'Neill was a life member of the Council on Foreign Relations (CFR), a director of The Inter-American Dialogue and was for over 10 years a member of the advisory committee for the David Rockefeller Center for Latin America Studies at Harvard University.
At the time of his death, O'Neill was also a Supervisory Board Member of Erste Group Bank AG in Vienna and an Independent Director of Emigrant Bank in New York.
O'Neill earned a BA in International Relations and Spanish from the University of San Diego and held an MBA from the Thunderbird School of Global Management. He also attended the executive program in general management at Dartmouth's Tuck School of Business.
He was a resident of Vero Beach, Fl. Among his survivors is a son, Patrick.