In Memoriam: Peter Larr, 80
40 Years at Chase, International Executive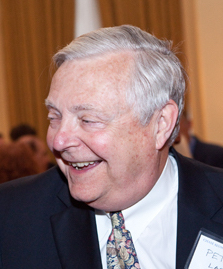 Peter Larr, who had a 40-year career in international banking and was a consummate civic leader in Rye, NY, died on December 16, 2019 at Greenwich Hospital, from ALS. He was 80.
Born on January 17, 1939 in Indianapolis, IN, he was the son of Colonel David Larr, DSC, DSM, and Marjorie Kathleen Hearne Larr. His first home was in Lafayette, IN. With a stop in Arlington, VA before the outbreak of World War II, he spent the war years in Watertown, NY, followed by two years in Tokyo.
After the death of his father in 1947, he attended school in Toronto before returning to Watertown. Starting in September 1953, he attended The Hotchkiss School in Lakeville, CT, on a full scholarship. Graduating as a junior from Hotchkiss in 1956, he entered Princeton University, also on a scholarship, where he majored in Political Science with a minor in Middle Eastern Affairs.
On July 7, 1962, in Rye, he married Rosamond Holmes Woodfield, a marriage that lasted 57 years. She survives him, as do their three children and eight grandchildren.
.
In September of 1960, Larr began a 40-year career at Chase Manhattan Bank, with posts overseas in London, Beirut and Hong Kong. After his first year at the bank, he went on active duty in New Jersey National Guard during 1961 and 1962. Upon his return to Chase, he served in many capacities over the years as the executive responsible for specialized business units such as Land Transportation Division, the market-leading Commodity Financing Division and the Domestic Institutional Banking Group. As a Senior Vice President, his management skills were tested by diverse functions managing upward of 950 staff members as well as being the executive responsible for the industry famous Chase Manhattan Bank training program with branches in London, Hong Kong, Puerto Rico, and Rio de Janeiro.
The last 10 years of his career were focused upon credit and market risk management, being responsible for the creation and administration of policy, the integrity of the risk rating systems and management of the reserve setting process, and a short stint managing the bank's workout division. Late in his career, he was the Chief Credit Officer for the bank's risk exposures in Asia.
Over the years Larr was active in various banking industry trade groups, serving as Chairman of the Corporate Banking Division of the American Bankers Association, President of Robert Morris Associates, New York, and as a member of the Board of Directors of the Robert Morris Associates National Organization. He was a member of the Association of Reserve City Bankers and Chairman of its Payments System Committee. Over the years, he wrote for various trade journals and was the three-time winner of the annual award for Best Article in the RMA Journal of Commercial Lending.
He frequently spoke at meetings and universities around the world for sponsors such as the European Bank for Reconstruction and Development, the Asia Society, and the Polish Bankers Association. His talks took him to St. Petersburg, Warsaw, Jakarta, Bangkok and beyond. He covered various topics, including the future of Asia's cities, capital sources for Asia/Pacific growth and technology's developing role in wholesale banking.
He was also a board member of the British Schools and Universities Foundation.
A dedicated volunteer in the Rye community, he established the first Rye-Playland Committee. He served for 19 years on the Rye Planning Commission, eight years on the Rye Human Rights Commission, and was a Trustee of the Rye Historical Society and Sub-Committee Chairman of the Rye City Board of Education Excellence Committee.
Larr was very active in local politics and served as Vice President of the League of Women Voters of Rye, Rye Brook and Port Chester for over 12 years. He was also a board member of 5 Steps to Five, a nonprofit dedicated to helping young Hispanic parents help their children learn the benefits of reading and reading comprehension from birth until kindergarten.
A memorial service will be held in the new year. Donations in Larr's memory may be made to the ALS Foundation.
(This is based on an obituary that appeared in The Rye Record.)
Remembrances
POSTPONED TILL LATER DATE
A Remembrance and Celebration of Peter Larr's life will be held on Sunday, March 22, 2020 in Rye, NY, in the afternoon. If you are interested in attending, contact Robert Geary, who will give you the specifics.
Please send to news@chasealum.org.
From Mich Araten:
Peter Larr was both a professional colleague and a personal friend whose character was defined by intelligence, empathy and respect for others. I first started working for Peter when he was given responsibility for credit policy and I was busy designing risk rating systems and measures of concentration in the loan portfolio that could be used for assigning capital. He was intensely interested in the application of quantitative methods to credit risk and encouraged new developments, though that wasn't his background. Peter never hesitated to express his own strongly felt views on so many subjects, often in long articulate essays. He somehow used his diverse experience to shed light on both banking and international issues. His ready laugh resounded whenever he was proved right or when he was shown to be wrong. Peter was unique and will be sorely missed.
From Peter Dodds: I remember Peter as a man of great humor, extremely approachable and always willing to provide guidance and wisdom.
From Tony Singleton: Peter was one of the great personalities at Chase, always a gentleman and a great supporter of people. My condolences to his family.
From Peter Belmont: I counted Peter among my best and oldest friends. We were colleagues going way back to the 1960s, although our geographical "specialities" were very different…..mine being Latin America (chiefly Brazil), London and Paris. He was always ready to give good advice and always knew what he was talking about (a rare trait!). A terrific sense of humor, huge curiosity about really anything. A sophisticated and widely read man of the world, wonderful intellect. Unusually articulate and logical in the presentation of his views. An Intelligent conservative, able to understand and accept alternative views. His capacity for profound research into subjects that interested him was absolutely unique, and he was generous in sharing his findings with his friends. He was also a wonderful family man, always generous with his time and support. And that laugh….how could it be resisted?! Long after we had left Chase we remained good friends. I already miss him.
From Earl Mohr: A wonderful and patient teacher who was able to make his point in a way that always made one part of the process. I appreciate him more every day.
From Doug Monroe: Peter was my boss, my colleague, and my good friend. He was smart, articulate and very opinionated. Yet, he was great to work, listened to me even when he might not agree and had a remarkable sense of humor that made it fun to work with him. But what I really will remember is what a good person he was. Peter was a great family man and an outstanding community leader during and after his Chase career. My thoughts go out to Roz and the family. We will all miss Peter.
From Jean Sheng: Peter was a very bright, insightful and thoughtful man who cared a great deal about his employees and colleagues. He made you think and he made you smile. You could hear his boisterous laugh all the way down the hall. I appreciated his friendship and will miss him. My condolences to Roz and the family.
From James K. Sepulveda: I joined Chase in 1986 working in HR for Jean Sheng. My first role was supporting DIB (Domestic Institutional Banking), led by Peter Larr. I did not have a banking background, and I fondly recall Peter taking the time to help me understand the changes taking place in the banking world and how that impacted the people working for the bank so I could best support them. I remember him as a patient and helpful leader, willing to take the time to help me and others learn so we could be more impactful in our roles.
The same can be said of John Jerow, who I also met during this time period. John was working in Credit Training at 33 Maiden Lane when I met him. Although our interactions were limited, I truly respected his knowledge and willingness to share that knowledge with others as he helped build the capability of the future generations of bankers. I thank them both for enriching my early time at Chase and may their memories bring joy to those who had the honor of knowing and working with them.
From Terry Mullervy: With a booming voice and infectious belly laugh, Peter was often heard before being seen. That said, he was a conspicuous character outfitted in bright red ties and matching suspenders.
I first met Peter in Mexico City. I was in my first lending assignment and accompanied Peter on calls with subsidiaries of his land transportation corporate customers. After a few years in Mexico, at Peter's urging I returned to New York as a unit manager and instructor in the training program where he was the executive.
Peter was larger than life and a terrific mentor. Here was a man who had an opinion on just about everything and set out his conclusions on any issue clearly and convincingly
He provided me and many others with guidance in professional life. Peter was also a shining example of a devoted family man. Chase was fortunate to have him. I was privileged to know him. May he Rest In Peace.
From David Weisbrod:
I worked for Peter in the early 1990s while Peter was head of Credit Policy, and I was head of Credit Audit. We did not always see eye to eye and our politics could not have been more at odds. Over time, I grew to appreciate Peter's enormous intellect, and we started sharing personal interests and our respective love of history. I learned of Peter's father's key role as a close associate of Douglas MacArthur. Peter shared remarkable stories of his father's role in Japan and the influence that had on Peter. I got to know the multiple dimensions of Peter's personality and in short order my differences with him melted into insignificance. We became very good friends, playing golf, going to dinners with our spouses and spending many New Years with Peter, Roz and his cadre of friends from all of the world. Peter was a prolific writer with a lightning quick intellect; his character did not tolerate those he felt lacking in integrity, but for the many who were part of his personal orbit, Peter generously shared his exceptional warmth, loyalty and good judgment. During one career setback, when I turned to Peter for counsel, I recall to this day how effectively Peter propped me up with a stirring pep talk that hurled me back into the fray with renewed energy and confidence. Peter: there is no one quite like you, your influence was enormous, I will miss you deeply.
From Herb Jacobi:
I. remember Peter from my days in Corporate Banking. He was one of the most successful corporate banking officers and very pleasant to work with. One of the best.
From Rudi Eisenhart: I met Peter the first time some 50 years ago in typical Peter Larr fashion: I gave a credit presentation as a credit analyst to an officer sitting right behind Peter. His colleague gave me a real hard time, strong voice, heavy language, and I was visibly taken aback. (This is the mild version of what actually happened.) When I was dismissed, Peter followed me, put his arm around my shoulder and said I should not worry, I was doing alright, his colleague just was that way, don't worry. I have never forgotten that. We have met many times since and have always felt an intensive friendship. A solid one, based on sharing attitudes and most opinions, liking and disliking the same people and from time to time withstanding disagreement. One of the most intense disagreements was practised in the early seventies shortly before midnight on the boot of his car at the Rye train station, letting one train pass and waiting for the next one to take me back to New York – all that after a wonderful dinner at the Larrs. Very very sad about Peter leaving us; as a good friend he lives on.