A service of Thanksgiving will be held Thursday, January 30, 2020 at 2.15 pm
at All Saints Church, Shelley, Suffolk, IP7 5QX.
Remembrances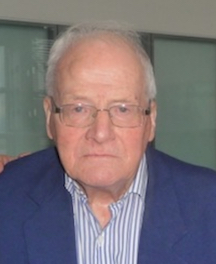 .
From Colin Grimsey: So sad to hear of the passing of Doug Bonnar. I first met Doug when interviewed to work in the Trust Dept In London. Doug should always have had the credit for the start of Global Custody in 1975. I was always grateful for the help he gave me in the development of the product. Doug was a real gentleman and proud Scot. He will be missed by many who knew him.
From
James Deeny
:
While I only had a few short years at Chase (1968-78) I knew Doug well as
our paths overlapped in the 1980s when he was running Chase Ireland and I was
Country Manager for HSBC Ireland. A delightful personality, a wry smile and
always wanted to know what you were up to. Indeed a "Canny Scot" and his
obituary well describes him.
But there is something else and not that well recognised. I remember
discussing with Doug the problem he had inherited with Chase Bank Ireland of
a small partly SME lender and partly retail bank with little international
business. (It had been a JV with the Bank of Ireland.) It's future was
questionable. He transformed it into a custodian and transaction operation
that ultimately became one of the foundation stones of the Dublin
International Financial Services Centre. Doug some footprint! You can
rightly take a bow.
From George Keenan: I first met Doug in 1971 when I was assigned to Chase London Woolgate House on a project basis, and he graciously allowed me to share some of his office space. He always had a good word for anyone, and when I last saw him in Dublin a couple of years ago, we shared some memories–especially about the tea lady who used to come around, at that time that was a long time ago. Great guy.
In Memoriam:
Douglas K. Bonnar, 88
The CAA mourns the passing of longtime member Douglas K. Bonnar, who died peacefully on Thursday January 9, 2020, aged 88.

Born in Edinburgh, Bonnar attended Edinburgh Academy and Melville College between 1937 and 1949 with a spell in Lancashire during the war and a trip to the London Olympics in 1948 – athletics always being a passion until an achilles tendon injury ended his running career. On leaving school, he joined Thomson McLintock & Co, qualifying as a chartered

accountant in 1959 after he had moved to London, and just before marrying Suzanne Bettinson in 1960. He later moved to Schroders. Four energetic children, rugby and a busy social life consumed most of his non-working time.

In 1969 Bonnar joined Chase in London and spent the next 24 years at the bank in various roles and locations. He became country manager, for the Channel Islands from 1977 to 1983, then fulfilled the same role in Ireland until his retirement in 1993. During this time he became president of the American Chamber of Commerce.

Post-retirement and after the too early passing away of his wife, Bonnar became a director of a number of financial services companies and aged 70, earned an MBA from University College Dublin. He travelled extensively in Europe, North America and Asia and was always keen to drop in and see family, old friends and former business associates, or offer a lunch or a good dinner and career advice to his children's friends; his family have received wonderful condolence letters from well fed and watered friends commenting on a New York dinner, Sydney lunch or a BBQ on a sandy beach. Various Irish IFSC companies and a Japanese bank received his wisdom, attention to detail (he always read every line of every board paper, minute or presentation) or prediction of the great financial crash due to falling credit standards.

In 2012, due to failing mobility, Bonnar returned to the UK, spending a brief time in London before settling in Suffolk near one of his sons. Ever entertaining and always keen to put a smile on the face of a visitor or member of staff at the care-home he moved into and eventually passed away at, he will be remembered by so very many people.

He is survived by four children, nine grandchildren and one great-grandchild.