Life After Chase: Harry P. Haldt III
Trip Haldt Edits Father's Accounts of Youthful Adventures
Upper To'Gallants and Rusty Scuppers
adventures of an amateur mariner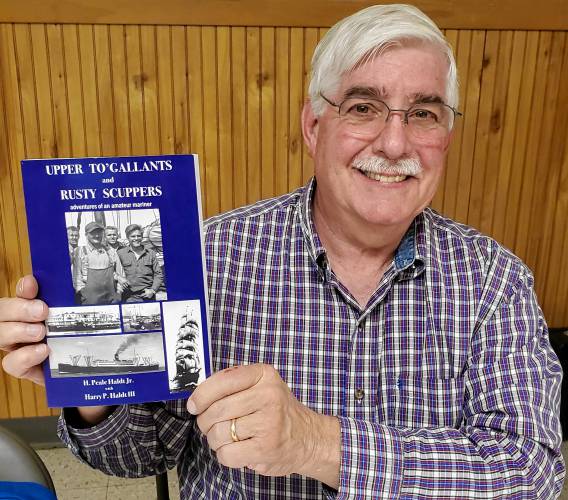 Chase alumnus Harry P. (Trip) Haldt III has put his father's memoirs of a magical time of his youth into a book that is a perfect read with a cup of hot chocolate, of strong coffee or (yes, a cup) of bourbon, by a beach, fireside or just about anywhere, for a variety of readers: armchair adventurers; sailing enthusiasts; non-sailers who simply love the poetry in sailing terms (as witnessed by the book's title, Upper To'Gallants and Rusty Scuppers); social history buffs who want to hear a particular view of the years leading up to and outbreak of World War II; readers who like to hear about regular folk brushing up against boldface names (semi-love letters from Dina Merrill! Ambassador Joseph E Davies!); movie set designers and screenwriters who can mine details of that period in various ports of call, through the lens of a remarkably acute eye; parents of 18-year-olds who need courage and encouragement to do something extraordinary in their gap year or summer breaks. In sum, it's a wonderful read, whatever you're drinking, wherever you are, why ever you read it.
Haldt and his wife were cleaning out their home in Athol, MA for a yard sale when they found the inevitable family archives…boxes containing photos, albums, report cards, register books. Inside one box he found a folder labeled "STORY written by HPH Jr." As Haldt writes in his prologue to the book, "I pulled it out, opened it up, and started reading. I got a few pages in, put the folder down, and looked through the rest of the box. The old register books turned out to be records of trips my father took from 1931 to 1939. He had kept hand-written, detailed log books of sea voyages and ships he worked on during summers in high school and college years. As I read further, I matched chapters in the story with corresponding log books. A fascinating picture emerged.
"I had heard stories from my father about his time at sea but only little snippets here and there. Four generations of our family have been connected to the sea from my schooner-fleet-owning great grandfather, Louis Harlow Haldt of Philadelphia, to me, a captain in the U.S. Navy. According to a list in the folder, my father went to sea, on what the family called summer trips, seven out of nine years during the 1930s. Since he was born in September 1916, that meant he went to sea on his first trip at fourteen. Imagine yourself or one of your children working for the summer on a small tramp steamer heading for the West Indies at fourteen! I couldn't.
"Stuck in the back of one of the log books I found a letter written by my grandfather to his son, my father, as Dad got ready to sail to Europe for a summer trip in 1932. Mind you, my father was only fifteen that summer, going overseas to bicycle around Holland by himself. In that letter I found out who was behind it, what was the plan, where did it lead, why my father started going to sea at fourteen, and when did it happen….
"I saw my father in a totally different light. In the prologue of his story, Dad writes:
Once in a while someone makes the mistake of asking me about those days. I fill up my glass, stare off into the past, and tell another tale. One of the reasons that I still have a few friends left is because I know when to stop talking. One, or at the most, three stories are usually enough as long as they are appropriate to the conversation going on at the time. That trite old expression has come up so many, many times: 'These stories are too good to die. Why don't you write a book?'
"This is that book. My father wrote his story from 1984 to 1985, but why it stayed in the file, I do not know. Dad died in 2000."
Haldt took his father's manuscript and added photos, correspondence, diagrams, log entries, etc., everything but the words–and the words are wonderful. Haldt Jr. grew up at a time when penmanship and craft in writing mattered. Even his diagrams and drawings are things of precision and beauty.
After these trips and a stint in the army, Haldt's father joined the business world, working as a salesman for Huron Milling Company of New York City, selling industrial milled food ingredients to large food companies. He worked for several companies, ending up at Nestle Food Ingredients Division, from where he retired to Florida. There isn't much poetry in that, but he had memories of adventures many a businessperson would wish he or she could look back upon. We should be thankful to his son for sharing them with us.
–– Andrea Axelrod, for CAA
About Trip Haldt
How to Buy Book
Harry P. (Trip) Haldt III worked at Chase Manhattan Bank from 1972 to 1990. He entered as a trainee in Global Credit/Credit Lending Services and spent the rest of his Chase career in Retail Banking: Credit & Marketing Officer, CMB of the Mid-Hudson, then C&MO Bronx/Westchester/Mid-Hudson Division, Planning Division (under Ken Jablon), Business & Credit Management, Planning & Project Management, Team Leader Bronx Business Banking Team; MCB Computer Operations, Data Center Operations Manager/Projects Planning Manager. He became a vice president in 1982.
After Chase, he stayed in Retail Banking, retiring in 2011 from Citizens Bank in Vermont, where he was a Branch Manager.
He and his wife, Susan, have five grandchildren. Haldt is a member and past president of the Athol (MA) Lions Club, sings in a classical music chorus that he co-manages, and volunteers on several town boards and committees in his home town of Athol, MA.
Trip is a nickname given by his grandmother, as HPH III, or third, led to triple and Trip.
"Nothing in my high school and college years holds a candle to my father's experiences and adventures," he told us, but he was a captain in the U.S. Navy, serving aboard the USS Tripoli in the Pacific as assistant combat information center officer during the Vietnam War. He entered the navy through Officer Candidate School, Newport, RI, following graduation from his father's alma mater, Colgate University, in 1968.