Remembrances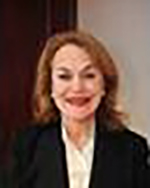 From Laura Effel: Margaret and I met in the Chase Legal Department when I occasionally represented her clients in litigation. In those days the Chase lawyers usually ate together in groups, first on the 59th floor and then, when that perk was limited, in the basement cafeteria. We became friends over those basement lunches. Our friendship grew after we both left Chase with the 1996 merger.
We had both become single adoptive parents while working at Chase. I adopted my son 30 years ago from El Salvador, and she adopted her daughter from China a few years later. Both children were infants when we adopted and never knew any other mothers. We had a lot of new territory to learn about and discuss. Margaret brought the same warm and thoughtful approach to parenting that she brought to everything I knew about her. My son was later adopted also by the man I married, but Margaret remained single.
Later, sadly, we had even more in common, cancer. In 2012 I was diagnosed with multiple myeloma, a blood cancer known to be treatable but not curable. Margaret never hesitated to listen to me about the choices I was making, even though I had lots of support at home a continent away. Then the next year Margaret was diagnosed with ovarian cancer. We encouraged each other again, and Margaret had the support of her family, especially her sister and now-grown daughter. She achieved remission. It was not to last. Her cancer recurred in 2017. When she reached the end of the line at Sloan, my husband reached out to a friend, who referred her to Jefferson Hospital in Philadelphia. Her new doctors helped her live many more precious months. Her death on February 19, 2020, came as a surprise to us all. I don't think she was expecting it. I hope she died happy.
From Ron Mayer:
I am proud to say that I had the good sense to hire Margaret after her former employer gave her the choice of resigning or relocating to Texas. (Current JPMC management is now doing this to many NYC-based employees.) Margaret was smart, passionate about her work and a warm caring person.
In Memoriam:
Margaret R.A. Paradis, 68

Margaret R. A. Paradis, of Oak Ridge, NJ, a member of Chase's Legal Department in the 1990s, died the morning of February 19, 2020 with her dog Jeeves by her side. She was 68.
Born and raised in Englewood, NJ, as the oldest of four children, Paradis graduated from Vassar College and St. John's Law School and received her LLM in International Law from NYU.
Paradis practiced corporate law in Washington DC and New York City. After leaving Chase in 1996, she served as Managing Director, CCO Global Asset Management at Deutsche Bank/Bankers Trust, and Senior Associate General Counsel at UBS PaineWebber Inc. She then went to the law firm side, as Of Counsel at Orrick, Herrington & Sutcliffe LLP, a Partner at Baker & McKenzie LLP, and attorney at Morris, Manning & Martin, LLP, before becoming sick in 2013.
She beat the odds by surviving Stage 4 Ovarian Cancer for six and a half years. In 2017, she created S.O.C Monkey Foundation with her daughter, Olivia, to bridge gaps between knowledge of and involvement with ovarian cancer across social, medical and political communities.
She is survived by her daughter and three siblings.
Memorial donations should be made to: TEALwalk.org/generaldonation; ocrahope.org; American Cancer Society or Jefferson University Hospital of Philadelphia.