In Memoriam: Jane Klivans, 74
Ex-MD at JPMorgan Asset Management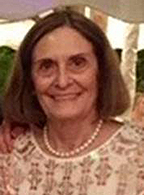 Jane Klivans, a retired Managing Director at JPMorgan Asset Management, died March 29, 2020. She was 74 and living in Pittsburgh, PA.
Klivans was with JPMorgan Asset Management for about 31 years, beginning in 1988, primarily based in Columbus, OH. She was a Senior Vice President at Mellon Bank from 1975 to 1988.
She was a graduate of Carnegie Mellon University.