In Memoriam: Everardo (Evvy) Goyanes, 75
Began Career at Chase in International Corporate Finance, Energy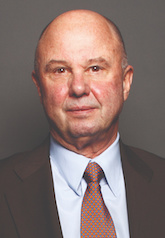 Everardo (Evvy) Goyanes, who worked for Chase from 1969 to 1981 in international finance and energy, died of cancer on March 30, 2020. He was two weeks short of his 76th birthday and died in Austin, TX. He had previously lived in Livingston Manor, NY.
Born and raised in Brooklyn, he graduated with a BA from Cornell University and held a graduate degree from Babson Institute.
According to a statement from Plains All American (NYSE:

PAA

and

PAGP

), Goyanes

initially served Plains as a banker and trusted advisor throughout the 1990s and had served on Plains' Board since 1999, chairing the audit committee for over a decade and helping guide the company through both challenging and prosperous times.
Goyanes served the energy and financial sectors in various capacities, most recently founding the consulting firm Ex Cathedra LLC. He served as Chairman of Liberty Natural Resources from April 2009 until August 2011. From May 2000 to April 2009, he was President and Chief Executive Officer of energy investment firm Liberty Energy Holdings, LLC. Prior to that, he held various roles in finance and banking within the energy industry. He began his career at Chase Bank, serving in various capacities, with a major emphasis on international and corporate finance for large independent and major oil companies.
Goyanes worked full time financing natural resource projects and companies until 2009. Since then he had gone parttime to pursue a career in photography.
Remembrances


Please send to news@chasealum.org.
4.15.20 From Hans van den Houten: Evvy and I met at Chase in our early days at the bank. I left for three years on a special assignment at MOMA in 1970, but after my return the Chase in 1973, we reconnected. Chase, as for many of us, was a great place to meet your colleagues and create friendships. Also, this connection fostered between us at the bank became a fruitful opportunity when, an executive recruiter in New York, I was looking for a candidate for the ING Bank USA to run their Energy Department. Evvy just fit the bill and he joined ING and stayed there until the financial debacle on Wall Street. We stayed in touch, and while we were not meeting in person following my retirement in 2005, Evvy literally kept me in the picture with his wonderful work as a photographer. He sent me a number of his books, just as he was, generous and informative.
The news of his passing brought back good memories of a special colleague and fine person with great talents in his chosen field of banking, but even more so, to me personally, his fine work as a photographer. I have send a note to Elena and repeat herewith to her and his family my sincere and heartfelt condolences. May Evvy Rest in Peace!