A Moment (or Two) in Bank History
Matrix Management and a Transformed Approach
By

Peter K. Gross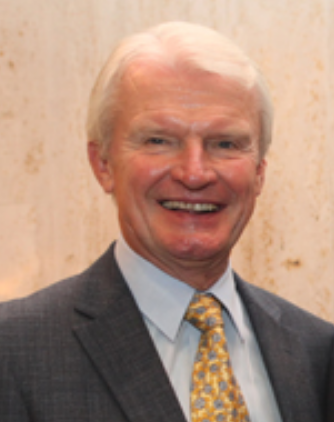 The other day I found an issue of the Chase News going back to April 1981. It was a special issue dedicated to David Rockefeller on the occasion of his retirement as chairman. At one point during the interview with DR, he reflected on the organizational changes at the bank. He touched on the subject of "Matrix Management", stating that the business became more complex and that a form of organization based on lines of business rather than geographic areas would make sense. Reflecting on the six years I spent as Country Manager in Singapore, we certainly got into the mix of that debate.
* * *
Another paper I found during my coronavirus recess was dated March 1985. It was my "Executive Statement" delivered during our Regional Country Managers meeting in Hong Kong with Bill Flanz. In addressing the changing business world, I came up with the following wisdoms:
I believe that a 50 basis points ROA (NIBOE Basis) by 1987 is acceptable for my Country because …… by that time, we will have completed our transformation from traditional banking to a professional service firm approach. Historic values, such as return on assets and return on equity, will have no further meaning to us. The implementation of our Global Banking Program will provide us with the needed flexibility to work within the concept of our new Corporate Financing business system. Appointing Client Service Teams will lead the way to modernize our Commercial Banking-driven activities to a broader Network and Financial Engineering-driven approach. This will revolutionize historic Cost of Capital configurations and will allow us to adopt a Client Economic Reporting System that will treat customers as markets and, equally so , markets as customers under application of specific product development time budgets.
Customer Service Teams will learn to operate at differentiated levels of service, thus optimizing the returns from our new Corporate Financing business system. A 50 basis points ROA, even on a NIBOE basis, will be more than satisfactory if viewed in the context of securitized credit products. Special Ad Hoc Teams will take these from the point of business origination, through the structuring and pricing phase, to the ultimate market trading.
The Customer Service Group in turn will have completed its transitional cycle whereby customers become relationships, relationships become markets, markets turn into products and services, and at long last, Assets into Liabilities.
What a profound Executive Statement, and I'm pretty sure that it marked the beginning of the end of my carrier with the bank. I continued my devotion to Country Management even beyond my Chase days. I spent five more years as ABN AMRO's Country Manager in Japan. For the remainder of my business life, I joined the global matrix boys in managing global lines of business across Country Manager boundaries.