In Memoriam: Karl R. Lasseter, Jr., 90
Chase Assignments Included Geneva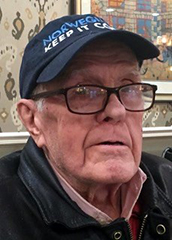 Karl R. Lasseter, Jr., former Chase country manager for Switzerland, died on April 18, 2020. He was 90 and lived in White Plains, NY.
Born five days after Black Tuesday in 1929, Lasseter grew up in Chicago and earned his Bachelor's and Master's degrees in economica at the University of Illinois.
Lasseter served in the U.S. Army during the Korean conflict, though primarily stationed in Italy. He and his wife, Harriet, moved to New York in the 1950s. He spent most of his business career with Esso and Chase Manhattan Bank, where his work took him and his family to New York, Miami, Lima and Geneva. He was a great linguist and picked up many languages along the way. While in Geneva, he sat on the board of the International School of Geneva at the time of the founding of the International Baccalaureate.
He settled in Scarsdale, NY, in the early 1970s and eventually resided in Rye and White Plains. Lasseter never lost his love for good music, fine food and his dry martinis with a twist. He had a passion for literature and was a lifetime collector of Hudson River Art and first editions.
As a long-time member of Hitchcock Presbyterian Church in Scarsdale, he was instrumental in rebuilding Hitchcock after it was destroyed by a fire in 1986. He loved to sing and was a choir member. His strong voice and love of music gave him much comfort as he aged and could no longer see well. He was a dog lover and proud collector of anything related to his favorite breed, the dachshund.
Unfortunately, there can be no memorial at this time. Among his survivors are his wife, children Andrew and Victoria, and five grandchildren.
Donations can be made in his name to Hitchcock Presbyterian Church or the Hudson Valley Chapter of the Alzheimer's Association (you will need to indicate the chapter).
Remembrances

Please send to news@chasealum.org.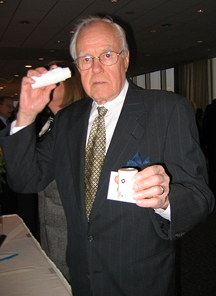 Karl R. Lasseter demonstrates a Chase-emblazoned portable razor at a CAA event in October 2006.
From Mark Minter: Saddened to hear of Karl's passing. He entered my life at the perfect time in the old Textiles and Apparel division on 7th Avenue, to teach me respect for those more experienced, and that wry humor could move a deal along much better with both Credit and clients. My heartfelt thanks for a magnificent mentor.