In Memoriam: Dick Miller, 86
Copenhagen Branch Head, Set up NY Treasury Ops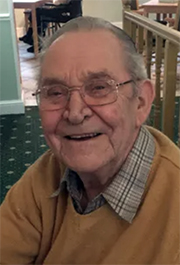 Richard (Dick) George Miller, who started his 40+-year Chase career at the age of 16 in London, died of novel coronavirus in Broomfield Hospital, Chelmsford, Essex, on April 18, 2020. He was 86 years old.
Miller rose to the rank of Vice President and undertook a number of roles, including head of the Copenhagen branch in 1976 and two years at the head office in New York (1979 to 1981), leading an operational redesign project. He was always proud of the people who worked for him and was tireless in his support of women in the workplace: in setting up the New York Treasury Operations team, he appointed women to the manager roles, citing that he felt women made far better managers than men.
One of his final roles was the sad task of supporting staff and families of staff who lost loved ones in the Clapham Rail disaster and Lockerbie bombing.
During his time with the bank, Dick undertook his National Service with the Royal Air Force, working as an armorer on the early jet fighters at bases in Suffolk. He was deployed to assist with the terrible east coast floods in 1953 and often told the story of how he and his friends were drunk for a week (he alleged) after getting hold of rather too much Navy-strength rum.
Miller's health began to decline significantly in 2014, and he moved in November 2018 to the Ardtully Retirement Residence, where Dawn, his wife of 60 years, visited him virtually every day. She survives him, along with two children, Ian and Ann, and a grandchild.
Donations in his memory may be made to the Royal Air Forces Association.
Remembrances

Please send to news@chasealum.org.
From George Keenan:

Dick was a great man to work with – I went to London in September 1971. He knew FX MM and payments operations like no one else.




Godspeed.
From Carol O'Connor (nee Honey): I worked for Dick Miller when I first started Chase Manhattan Bank, Woolgate House, when I was 19 in 1970. He was a wonderful boss, him and his wife came to my wedding, we were all like a big family. I went on to work in operations until I left to have my first child in 1981. I will always remember him as a fair (sometimes a bit scary), but lovely man. I always look back at my time at Chase as being happy, the best job I ever had.