In Memoriam: Sheree-Ann Spencer, 56
Senior VP at JPMC, 24-Year Chase Career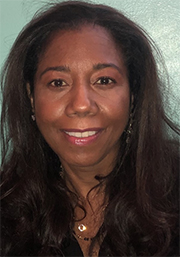 Sheree-Ann Spencer, who built a career in marketing, management and client services as a Senior Vice President in the Private Banking Sector at JPMorgan Chase, died on March 23, 2020, a day after suffering a stroke. She was 56 years old and had lived in Montclair, NJ.
She was born in Trinidad and Tobago to Maurice and Wilma Romero, who survive her.
Spencer worked at Chase from 1990 to 2004, including stints in corporate communications and credit card/new market development.
In 2006, Spencer was diagnosed with Polymyositis, a rare autoimmune disease that causes inflammation of the muscle groups. This experience led her to pursue a Master's degree in Health Care Administration at Seton Hall University, where she graduated in 2012.
She volunteered at Mary's Pantry Food Bank and as a Eucharistic Minister at her church.
Other survivors include her children, Francis and Ashley, siblings Odette, Charlene and Maurice, and beloved nieces/nephews.
A celebration of her life will be scheduled for a later date. To plant a tree in her memory, please visit Tribute Store.