In Memoriam: Philip Braverman, 87
Longtime Economist at Chase Manhattan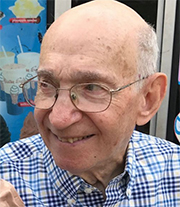 Philip Braverman, an economist who served as a financial adviser and spokesman at Chase Manhattan Bank from 1967 to 1983, died of novel coronavirus on May 2, 2020. The resident of East Northport, NY had been in good health before his death at age 87.
Born in New York City, he held a BBA from City College of New York and did postgraduate work at Columbia and NYU.
He was an economist with the American Bankers Association from 1957 to 1967 before joining Chase. He went on to become chief economist at Briggs Schaedle, Irving Securities and DKB Securities in New York City. He was frequently quoted in The New York Times and The Wall Street Journal for his economic predictions.
A member of the Downtown Economists Club, Money Marketeers and Forecasters Club, he was also a war veteran, president of the Men's Club at the Suffolk Y JCC and show tunes afficianado.
In addition to his wife, Etta, Braverman is survived by his daughter, Michele Miller; sons Mark and David Braverman; seven grandchildren, and five great grandchildren.
Remembrances

Please send to news@chasealum.org.
From Ken Jablon: I knew Phil when we both worked at the American Bankers Association and at Chase. He always had an economic prediction/opinion, and most of the time he was right. I don't think that he received the recognition at Chase that he deserved.
Personally, he was just a nice guy.