In Memoriam: Nemir Kirdar, 83
A Father of Private Equity in the Persian Gulf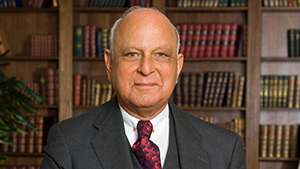 Nemir Kirdar, who led Chase Manhattan's regional operations in the Persian Gulf from 1976 to 1981 before forming his own company, Investcorp, died on June 8, 2020 at his home in Antibes, France. He was 83.
(The following is from Wikipedia)
Kirdar was born in Kirkuk, Iraq, to a Turkmen family prominent in the politics of the late Ottoman Empire and interwar Iraq. After a military coup overthrew the Iraqi monarchy in 1958, Kirdar fled to the United States to study. He escaped from Iraq in 1958. The much-reported story that he hid in a rolled up carpet in the back of a truck was untrue and invented by Nigel Dempster for a story in the Daily Mail in the early 2000s. Kirdar returned to Iraq in 1960 but soon after the Baathist coup, which produced the regime of Saddam Hussein, he left the country again.
Kirdar graduated from the University of the Pacific in California with a degree in economics. He also held an MBA from Fordham University in New York, and completed Harvard Business School's senior management program.
Kirdar began his banking career in New York in 1969. He then worked in South East Asia and Japan for Allied Bank International. In 1974, he joined Chase Manhattan Bank in New York as vice president.
As a founding father of private equity, and an economic and cultural bridge-builder, in 1982 he officially founded Investcorp, a firm specializing in global alternative investments including private equity, hedge funds, real estate, technology investments and capital growth in the Persian Gulf region. Investcorp now operates out of Bahrain, New York, London (where Kirdar had his main home), Abu Dhabi, Riyadh, Doha and Singapore.
According to an obituary in The Washington Post, Kirdar had taken a year off from Chase to work as an adviser to the Arab Monetary Fund, where he developed the idea behind Investcorp and soon launched the business with former Chase colleagues such as Savio Tung, who now heads Investcorp's technology investment wing.
Kirdar served as Investcorp's CEO for over 30 years, until standing down in 2015 to became Chairman until his retirement in 2017.
Kirdar was the author of three books: Saving Iraq (2009), In Pursuit of Fulfilment (2012) and Need, Respect, Trust (2013).
* * *
Read the excellent obituary in The New York Times.
Remembrances
Please send to news@chasealum.org.
From Bill Flanz: Nemir Kirdar was one of the most remarkable men I have known, accomplishing more than most of us could accomplish in several lifetimes. His charisma and tenacity are legendary.
Born a Kurdish Iraqi, he arrived in Phoenix, Arizona, following an entrepreneurial start in Bagdad that was interrupted by the coup and massacre of the Iraqi royal family. His first job in banking was working as a $250 per month teller at the First National Bank of Arizona in 1960. By the time he joined Chase in October 1974, he had worked for two additional banks, had been jailed briefly in Bagdad and had earned his MBA from Fordham, while attending school at night.
In 1976 Frank Stankard called me in Tokyo to tell me my time as Japan Country Manager was ending and I was needed yesterday to take responsibility for all of Chase's activities in the Middle East and North Africa. My first task was to close the Regional Office in Beirut amidst the civil war and establish the new Regional office in Athens.
As I took the first trip to survey my new territory, I found Nemir in Abu Dhabi, where he had established a Chase Rep Office earlier that year. In those days, most Chase Rep Offices were small cost centers, of limited importance to Chase, and Nemir's was initially no different. Nemir's responsibilities did not include Saudi or our Bahrain Branch or the affiliate banks we managed in Kuwait and Dubai, so his plate was quite empty. Making his mark was going to be very difficult. "Difficult" and "challenging" were words Nemir understood well. "If something was not difficult someone else would have already accomplished it," he reasoned. "Impossible", on the other hand, was not a word he ever used or allowed anyone in his presence to utter.
Within 18 months Nemir had single-handedly marketed and arranged the largest syndicated loan ever done in the Gulf (for Qatar), had obtained several hundred million dollars in investments from ADIA. In October 1977, we promoted him to head Chase's activities in the Gulf states, operating from a new office in Bahrain. As expected, Nemir developed a very profitable business for Chase in the Gulf.
In 1980, about the same time that I received my next phone call from Frank Stankard, telling me I had to move to Hong Kong yesterday to take
responsibility for Chase's activities in Asia Pacific, Nemir was seconded to the Arab Monetary Fund and began working on the formation of Investcorp, based in Bahrain. His mission was to create attractive investments for wealthy Arab investors by acquiring good U.S. (primarily) businesses (or businesses that could be made successful with better, more effective management).
With Nemir's vision and drive, supported by his highly motivated team of ex-Chase (plus one ex-Bankers Trust) bankers, Investcorp acquired many well-known businesses. These included Tiffany, Riva, Breguet, Chaumet, Saks Fifth Avenue, Gucci, Ebel, Georg Jensen, Club Car and Circle K, among others. Today, Investcorp perhaps has a lower profile, but it continues to
succeed with many mid-market buyouts of specialty businesses in Europe and the United States.
Investcorp became a world-famous institution, capable of continuing beyond Nemir's tenure – something which was very important to him.
For those interested in reading more of Nemir's life story, including what led to his jailing, I recommend Need, Respect, Trust: The Memoir of a Vision, which he published in 2013.