CAA Frankfurt: Thanksgiving 2020

CANCELLED
A note from Rolf Stokburger
This has been cancelled because of the lockdown in Germany due to the pandemiuc.
Please contact Birgit Wilde if you pre-paid and have not yet been reimbursed.
November 26, 2020 at 6 pm
Frankfurter Golf Club e.V.
Golfstraße 41
60528 Frankfurt a.M.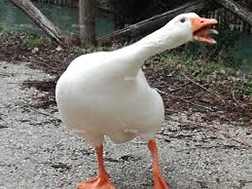 Thanks to our member Günter Grehl, we can once again enjoy a very sporty goose, optionally accompanied by a soup and / or lamb's lettuce beforehand and then an apple ring parfait as dessert. The side dishes are classic dumplings and red cabbage. It is important to register or cancel in good time. A registration is only binding if the advance transfer for the 3-course menu in the amount of € 39.00 per person, excluding drinks, has been made. As always, drinks run on a self-pay basis and are paid for on site. Please let me know your definitive commitment to participate on November 26, 2020 in writing and at the same time transferring money by November 20, 2020.
Questions and RSVP to birgit.wilde@boyden.de