In Memoriam: Bruce A. Smith, 71
Many Roles in 22 Years at Chase Manhattan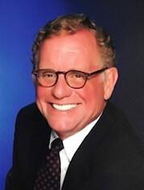 Bruce A. Smith, PhD, died on July 12, 2020 at his home in Phoenix, AZ, from a fast-moving cancer that took everyone by surprise. He was 71 and held many positions at Chase Manhattan Bank from 1980 to 2002.

Born in Ames, IA, Smith moved with his family to New Jersey, only to return to Iowa at the age of 10 after his father died in a plane crash. Smith would call Des Moines his hometown.
Smith was always in pursuit of the next adventure. As a kid, he led his friends on expeditions through the neighborhood creek. As a freshman in college, he, his mother and younger brother lived in Paris, where he also found the time to travel throughout Europe, from Dublin to Moscow to Istanbul to Madrid. He set off on his own, doing on-the-ground research through Costa Rica for the U.S. Agency for International Development. And he made his way down the Amazon River with a friend, eating alligator meat with French dressing.

This desire to see and experience the world never faded and he travelled extensively from his late teens through his sixties, visiting Europe, Asia, Africa, Central and South America, and the Middle East.
Smith earned a Masters in International Affairs and a Doctorate in Economics at Columbia University. In Manhattan, he made a home with his first wife, Trudi Levine, where they raised their two daughters, Vanessa Levine-Smith and Karlin Gooch.

After finishing his PhD, Smith started his long career in finance, where he would put economic theories to the test. He was motivated by two things: first, the intellectual adventure of a good challenge; and second, the belief that more efficient financial systems would lead to better outcomes for the majority. Throughout his tenure at Chase Manhattan Bank, he held many positions, including corporate consultant, new product developer, deputy head of strategic planning, Corporate Treasury executive, and business executive for Treasury services.

Over the years, Smith maintained his interest in education, serving on the board of trustees of The Calhoun School. He also served for many years as an adjunct professor at Columbia's School of International Affairs. His volunteered with AARP, where he helped senior citizens with their taxes for 10 years.

After separating from his first wife, he got back in touch with his high school sweetheart, Anne Johnson. They started courting and he eventually moved out to Phoenix, AZ, to be with her. Smith fully embraced his stepdaughter Mindy (Buhrow) Bargeloh and her family, and took his role as Papa to his five grandchildren as seriously as any other.

Among his survivors are his wife, daughters, stepdaughter, grandchildren brother and stepsiblings.