Life (a Long Time) After Chase:
Jennifer Schroeder Johnson
Co-Owner of Johnson Estate Winery Near Lake Erie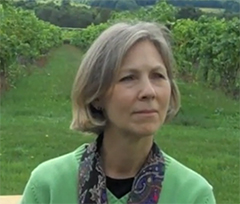 Jennifer Schroeder joined the Chase Manhattan Credit Training Class of 1979 with an MBA from Cornell,
a maitrise from Belgium's oldest university (in an exchange program that was part of the MBA)
and a love of "international stuff".
In 2013 – after years of globetrotting and 14 residential moves – she and her husband, Fred Johnson, settled full time on 300 acres in rural western New York as third-generation owners of his family's Johnson Estate Winery, the oldest continuously operating estate winery in New York State. Near the shores of Lake Erie, they are currently growing 13 varieties of grapes and increasing online sales of their award-winning wines during the pandemic.
It's fair to say that when Jennifer married Fred, she wasn't expecting to own the winery or to become a Martha Stewart-like figure in the Chautauqua region, about an-hour drive southwest of Buffalo and 2.5-hour drive northwest of Pittsburgh.
Even many wine lovers don't know about this wine-growing region. According to the Winery,
For more than a century, this region has been known as the largest Concord grape growing region in the world and Johnson Estate is located in its center. The environment in which a grape is grown,

its

terroir

,

includes the climate, geology and viticulture methods. The Lake Erie Viticultural Area has excellent grape-growing conditions: a northern latitude that results in long hours of summer sunlight, well-drained sand, gravel and shale soils, and a climate moderated by Lake Erie and the hills of the Allegany Plateau that parallel the lake shore. Johnson Estate's terroir is most like the Rhine and Moselle areas of Germany, both in climate and soils. We manage our vineyards and winemaking so that this special local terroir is expressed to perfection

.

"
Jennifer was an Air Force brat who ended up at the College of William and Mary in Virginia. She spent a year as an au pair in France and thought about a career in diplomacy. Thinking that the best jobs at the State Department went to political appointees, she looked to banking as a vehicle for an international career.
After Credit Training, Jennifer worked in Project Finance at Chase until 1982, when she and Fred married and began living wherever Fred's career in the international food business took them.
First they moved to Texas, where Fred worked for Frito Lay and Jennifer for Republic Bank.

Then they moved back east when Fred worked for Pepsico and Jennifer for GE Finance. Next stop, Australia.
"We have a son, born in Australia, and a daughter, born in Canada. The two children (and I!) learned Spanish in Panama, when my husband worked for Chiquita Banana, based in Cincinnati at that time," she said. Along the way, she pursued her love of gardening and earned another master's degree, in Restoration/Conservation of Architecture, at the University of Sydney. While raising her children, she often got involved in restoring old houses, and on two occasions, she got them listed on the National Register for Historic Houses.
There was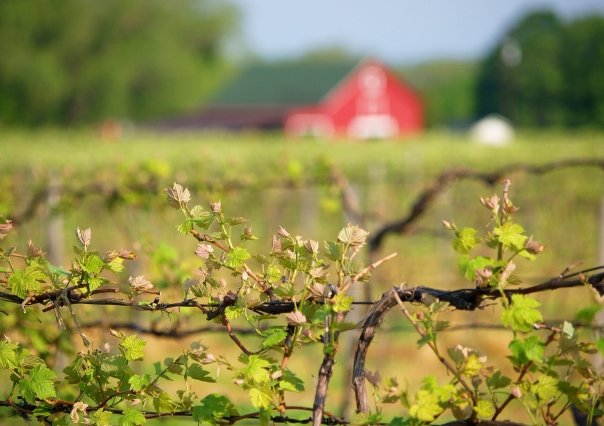 no succession plan for the Johnson Estate Winery when her father-in-law died somewhat unexpectedly in 1998 at the age of 79.
"We were all raised to think, 'If you have to go home, it's because you failed at what you set out to do', and no one was passionate about wine," she recalled. Fred's father
was an agricultural consultant and advised many organizations, including Chase Manhattan Bank. He managed Nelson Rockefeller's ranches in Venezuala until 1961; indeed, Fred spent his first eight years of childhood in Venezuela.
When his father died, Fred's two siblings had their own lives in Minnesota and mid-New York. Fred was working for Chiquita in Panama and, at the time, dealing with serious strike negotiations. He suggested that Jennifer and the children might be safer if they were out of town.
So she and her children moved to the farm, and she sat in as executive administrator while her mother-in-law ran the operation.
The family managed the business "long-distance" with the supervision of Fred's brother, Tony, until 2011 when Fred and Jennifer became the sole owners. They moved to the farm permanently in 2013 from Cincinnati, where the kids had mostly been raised, and where Fred had worked for Chiquita. In Cincinnati, Jennifer was involved with corporate volunteerism, inspired by the degree earned in Australia, working for the local horticultural society and serving on the Board of the Cincinnati Preservation Society.
Both Jennifer and Fred have backgrounds in finance and could tend to the numbers at the winery. As owners of a small business, however, their work portfolios had to go way beyond the financial aspect.
While Fred manages the farm, finances, and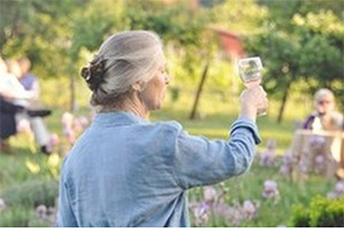 general management,
Jennifer

describes herself as the "chief of landscaping and hospitality" at Johnson Estate Winery. She also manages its website and social media.
She has championed local and regional foods and products through a regional organization, where she introduced a Farm-to-Table program, and at the Winery itself, which hopes to bring back food and wine pairings when the Estate's vineyard walks and tastings resume post-pandemic. The Winery website includes some of the recipes that will be in the two cookbooks she's working on: one focusing on recipes, some going back five and six generations, using the region's Concord grapes, the other inspired by their winery and farmhouse. (They already sell online their quince paste made from home grown quince.)
Pre-pandemic, a large portion of the Winery's wholesale sales were to retail stores in Pennsylvania and in parts of western New York and eastern Ohio. "In March, we were expecting we would be closed down. Our largest client – State Liquor Stores in Pennsylvania – closed down for 2.5 months. People who needed liquor and wine would order online. The Winery might have been dead to retail traffic, but we suddenly were busy packing boxes."
The business of farming and winemaking goes on, pandemic or not. The winery's informative and often entertaining online blog notes, "
We are, by profession, in the microbiological extermination business every day. We often say to tour groups, that in terms of workload, wine-making is 10% science, 10% art, and 80% sterile plumbing. We spend 80% of our time in the wine cellar cleaning and sterilizing, because if we don't, bad things happen promptly and clearly. Bacteria, like acetobacter, makes vinegar and stray yeast cells can spoil the taste or turn a bottle of semi-dry wine into a tabletop Vesuvius. Every day we sterilize with 90% alcohol any new thing which the wine might touch that day."
The tradition in the Johnson family is that the next generation pursues their careers outside of the farm, rather than being confined to working in the small business. Their daughter, fluent in Mandarin and Spanish, works for Boston Consulting Group in San Francisco. Their son, also a graduate of Cornell University, is a Lieutenant Commander in the US Navy. Jennifer misses the days when she could visit her children while they pursued their international careers, working in China, Bolivia, and Europe. Now, of course, she wishes she could even see them in San Francisco or Virginia.
"We want to be good stewards of this special place, improving the farm and winery and the community around us, a little each day, and to be successful enough so that our children will have attractive choices in the future," she said.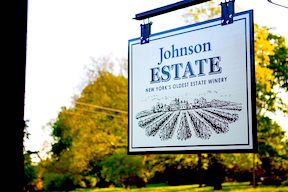 Johnson Estate Winery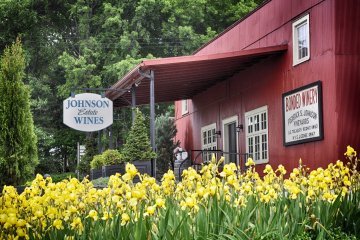 Above: Tasting Room in Westfield, NY
Asked which is her favorite wine produced at her winery, Johnson said, "As a winery owner, you're allowed to have more than one favorite! We have won many awards, including 98 points for one of our Ice Wines, which is almost half the price of a Niagara ice wine. Our Dry Riesling is a double gold winner. I especially love our Vidal Blanc sparkling May wine, which has a secondary fermentation with sweet woodruff, and our newer Provençal-style rosé."
---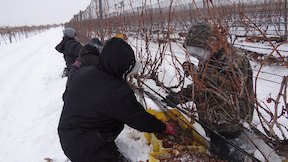 Harvesting Ice Wine Grapes