In Memoriam:
Margaret Jo (Meg) Fitzpatrick Kimpton, 70
HR in International Corporate and as HR Liaison for DR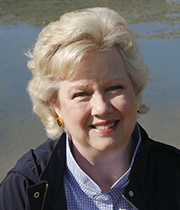 Margaret Jo (Meg) Fitzpatrick Kimpton, 70, died of metastatic breast cancer on June 7, 2020 in Sydney, Australia, where she had lived for many years after working in HR at Chase from 1978 to 1985.

Born on Long Island, she grew up there but also in Pennsylvania, New Jersey and Louisiana as her father was moved from job to job, working with what is now CSX. She was educated at Elisabeth Seton and Marymount Colleges.
Before joining Chase, Kimpton worked in HR for Sotheby's and Thomas Cook. At Chase she became an officer in the international division in HR. She also spent at least a year in David Rockefeller's office as HR liaison.
Following Chase she moved to Westpac Banking Corporation's New York Office at the behest of Tony Walton and Gary Hett. It was while there in late 1986 that she met her Australian-born husband, Geoffrey Kimpton. They were married in New York in May 1987 and afterwards moved with her husband to Australia.They remained in Sydney post-marriage save for a two-year term in Melbourne. The Kimptons had two sons who were brought up and educated in Australia.
Her banking career continued on her arrival in Sydney, but she eventually developed a decorative accessories business.
Among her survivors are her husband, Geoff, two sons and their wives, and two grandsons.


Remembrances
From Graeme Rogers:
I

am deeply saddened to hear of Meg's untimely passing. Our Chase careers ran almost in parallel – I joined Chase in London in 1977, then transferred to NYC in late 1979, and relocated to Australia in 1983 – departing Chase in 1985.
I fondly remember Meg's personal warmth and sparkling personality, and a number of shared experiences at 1CMP, with mutual friends in New York, and later in Australia via the Chase Alumni Association.