A Moment in Bank History
How Chase's Mr. Zip Became a USPS Mascot
The following is directly from the Smithsonian's website for the U.S. Postal Service. To read more of the site's must-read page on the intersection between the USPS and JPMorgan and JPMorgan Chase's predecessor banks, including Chase Manhattan, Chemical and First Chicago, click here.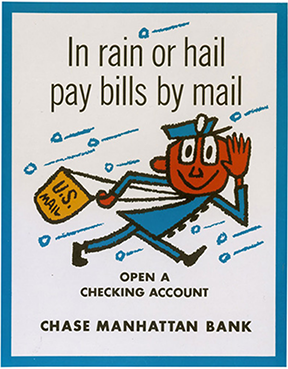 In 1963, the United States Postal Service initiated the ZIP code, or the Zoning Improvement Plan, to better address the demand for more efficient mail services. To promote this new feature, the Post Office Department introduced Mr. Zip, a cartoon figure dressed as a mail carrier. Though new to the postal service, Mr. Zip was no newcomer to the world of advertising.
Mr. Zip was originally created for Chase Manhattan Bank, a JPMorgan Chase predecessor, by Howard Wilcox, an artist with the advertising agency of Cunningham and Walsh. His character, a postman delivering a letter, was used in a campaign advertising bank-by-mail services and accompanied by the slogan, "In rain or hail, bank by mail."
When Chase retired the campaign, the American Telephone and Telegraph Company purchased the rights to the character from Cunningham and Walsh. AT&T gifted the design to the United States Post Office Department who tweaked the character's look slightly and named him Mr. Zip. Mr. Zip was inaugurated in July 1963 and within four years, 80 percent of the American public recognized him. He was eventually retired in the mid-1980s after the introduction of the nine-digit ZIP code.