A Moment in Bank History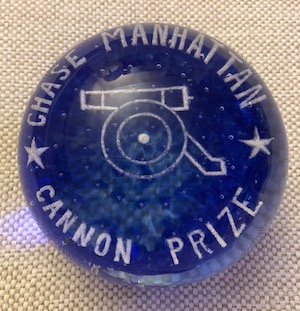 Did you ever win the Cannon Prize at Chase or know someone who did?

Lynn Parinello Walker did and sent us this image of the paperweight she received back in the mid-1960s to commemorate it.
The Cannon Prize was given each year to Chase employees who voluntarily took a test on the history of the bank. The prize was named for Henry Cannon, second president and former chairman of the board of the Chase National Bank. (More on Cannon below.)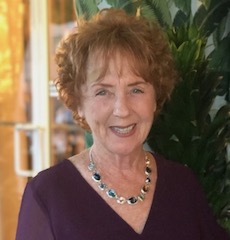 Walker began as a typist at the Jamaica, Queens branch of Chase Manhattan in 1964, a week after she graduated from high school. She retired in 2000 as a vice president and branch manager on Long Island.
As a new employee, she'd admired the Cannon Prize paperweight on someone's desk and asked how to compete. "They gave you mimeographed materials to read and gave the prize in different categories, according to how long you had worked at the Bank," Walker recalled. She competed in the one to five years category.
The winners her year were invited to 1CMP, for a "beautiful cocktail hour", where they received a monetary gift and paperweight. She remembers David Rockefeller being there.
"The recognition given for this, the people on the platform – I was awestruck, being so young," she said.
She also remembers her first Christmas at the Bank. "Everybody in the Queens branch got an envelope. It was a $10 bill from Fred Trump."
Walker moved to Florida in 2001. She worked part time for JetBlue, first at the ticket counter in Palm Beach and then as a flight attendant, based out of Fort Lauderdale.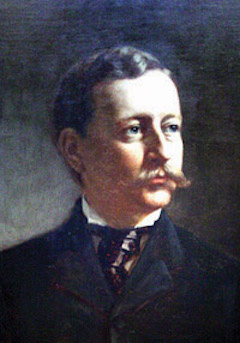 Henry Cannon was born in 1850 in Delhi, in New York's Delaware County. He studied at the

Delaware Literary Institu
t
e
before becoming a clerk and teller in the First National Bank in Delhi. In 1870, he moved to

St.

Paul, MN, where he became a teller in the

Second National Bank

. A year later, the 21-year-old Cannon organized the Lumberman's National Bank at

Stillwater

and served as president for 13 years.
In 1884, Cannon was appointed Comptroller by President
Chester A. Arthur

to succeed

John Jay Knox

. After only a few months in office, he was confronted by the financial panic of 1884. Due to Cannon's efforts, the crisis was averted because the

New York Clearing House Association

quickly extended credit to threatened banks. After

Grover Cleveland

was elected president, he requested that Cannon stay in this role, but Cannon resigned.
In 1892, Cannon was a delegate to the 4th

International Monetary Conference

held in

Brussels

.
After resigning from the government, Cannon moved to New York City and joined the National Bank of the Republic as vice-president, where his predecessor Comptroller, John Jay Knox, served as president.
Cannon was associated with

James J. Hill

, the "Empire Builder of the Northwest" and railroad magnate. Hill bought control of

Chase National Bank of New York

in 1886. Cannon was later elected as the second president of the Bank, succeeding

John Thompson

, who founded the bank in 1877. In February 1904, he became chairman of the board, and was succeeded as president by

A. Barton Hepburn

, another former Comptroller of the Currency. Cannon remained chairman of the board until February 1911, retaining his directorship around 1933.
Cannon also served as a director of Hill's

Great Northern Railroad

, the

Lake Erie and Western Railroad

, the

New York, Ontario and Western Railway

, and the

Oregon Railroad and Navigation Company

.
He also served as president of the Pacific Coast Company and was a director of the United States Guarantee Company and the

Manhattan Trust Company

, which merged with

Chase
National Bank
in 1955 to form the

Chase Manhattan Bank

. It is the oldest of the predecessor institutions that eventually formed the current

JPMorgan Chase & Co

.
Cannon died in 1934 at the age of 83.
Other Cannon Prize Winners
Steve Friedman:
I won one in 1961.
Mike Ryan:
I won the first overall prize in 1964. The award was $250. There were two worthwhile additional bonuses, however: a conversation with David Rockefeller at the reception and an extra week's vacation.
Clotilda Cepeda
Mike Esposito:
I was awarded fourth place in the Cannon prize examination in 1967.
I was a member of the accounting and reports division of bank operations. My colleague, Frank Lacey, also in the accounting and reporting division was awarded the first prize in 1967.
Robert A. Fischer (Bob):

I received a Cannon Prize in May of 1970.

Here's a snapshot from the Chase Manhattan Bank news dated May 1970. I won first prize for employees with under two years of service in Exam 2. I also still keep my Cannon Prize paperweight on my desk.
Joseph (Joe) Kelly:
I won a Cannon Prize in 1963 and it still sits on my desk at home.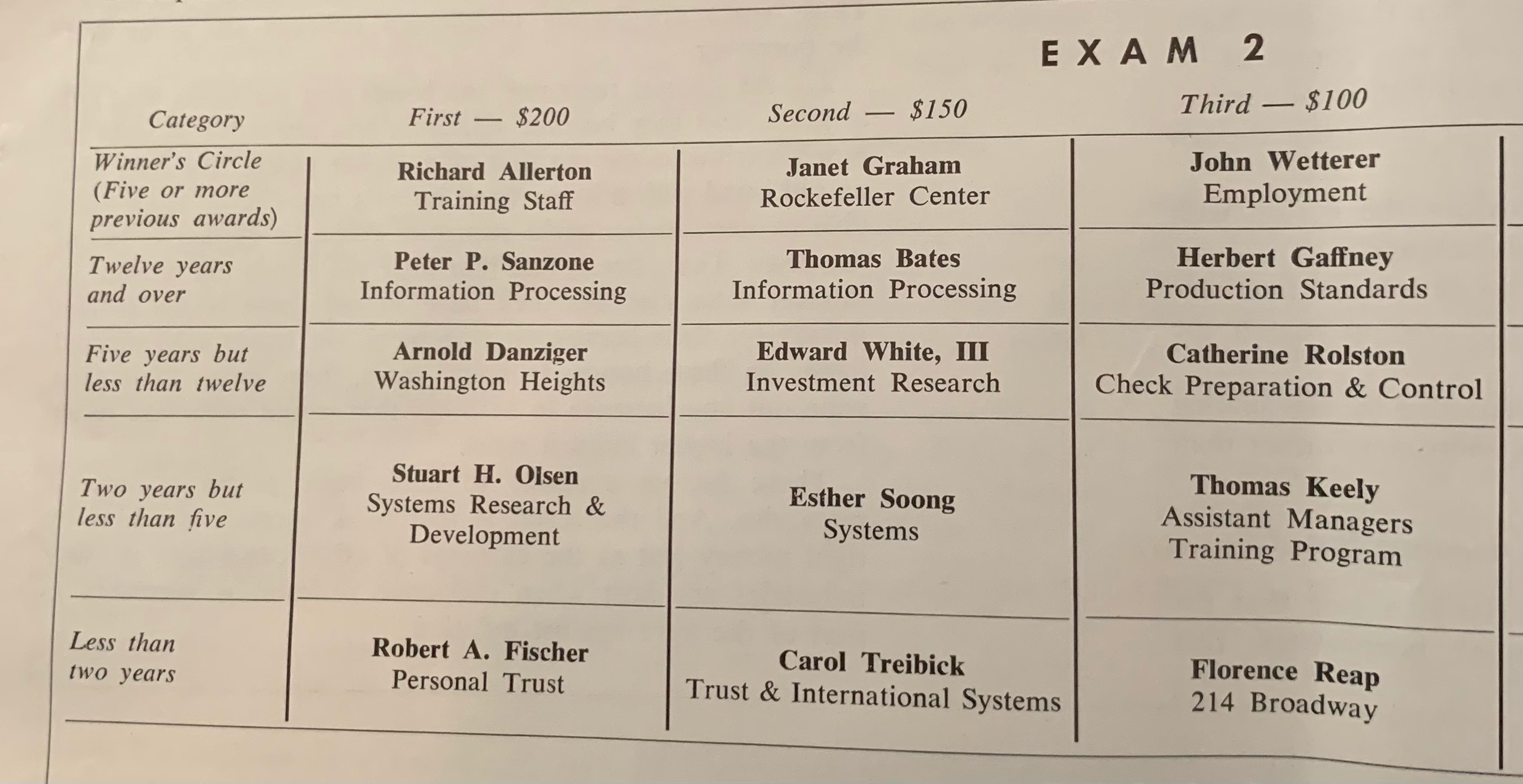 Peter Rapuzzi (in 1963 or 1964)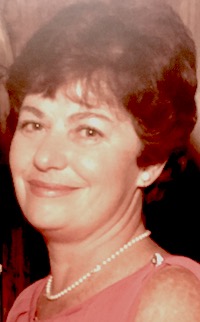 Catherine Rolston's son sent this photo of his mother, who was a third place winner in 1970 (see above) and won a first place in 1968. She worked at One Chase Plaza and One New York Plaza, processing checks, from about 1963 to 1975 and entered the Cannon Prize contest several times. She died in 1989.