In Memoriam: Richard Heil Pinney, 78
Worked in Chase Institutional Banking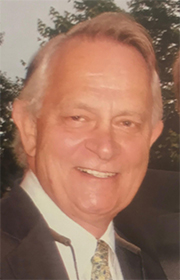 The CAA mourns the passing of its member Richard Heil Pinney, who spent 15 years at Chase in a variety of client executive positions. He died on October 31, 2020 at the age of 78 and was married to Chase alumna Donna Morrell.
Born in Salt Lake City, he graduated from the University of Utah before moving east to attend New York University's Graduate School of Business where he earned his MBA with Distinction. In 1967, he accepted a position at The Chase Manhattan Bank in Chase's MBA Special Development Program. Pinney left the Bank in 1982, having been a Vice President and Division Executive in the Institutional Banking Department.
Pinney continued his career out west, pursuing an interest in the oil and gas exploration business before returning to New York City to reposition his career in real estate. He was the founding principal of Pinney, Stone & Company LTD, a real estate investment sales and management company, which he ran for over 30 years.

Pinney spent close to a decade raising four children with his first wife in New Jersey before returning to New York, where he married Morrell in 1984. While his primary residence was in Manhattan, most weekends and holidays were spent with his wife and family at their home in Tuxedo Park, NY. He served on the Tuxedo Club's Board of Governors for eight years, including several as House Chairman, and was a long-time member of The Union Club in
New York City. He was an avid golfer, a voracious reader, a talented cook, and an all-around sports enthusiast.
He is survived by his wife and their two sons, four children from his first wife and seven grandchildren.
His time spent in the Forest Service in Utah during his teen years reinforced Pinney's love of the outdoors and his focus on conserving our natural resources. In lieu of flowers, the family
requests donations in Pinney's memory be made to
Utah Open Lands
.
Remembrances
From Ted Klingos: My condolences to Donna and her family on Richard's passing. He was the consummate professional and team player. I found him to be a colleague who was always willing to help when approached. May he Rest In Peace.