In Memoriam: Marlin "Mike" Kisselstein, 75
Community Leader in Syracuse, NY Area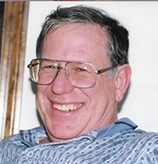 Marlin "Mike" Kisselstein
, who worked for Chase for 34 years, died in Syracuse, NY, on November 24, 2020.
Kisselstein was born in White Plains, NY but spent a good part of his career in the Syracuse area. He was Branch Manager for several Chase branches over his 34-year career with the Bank.
He was very active with the American Heart Association, serving as Regional President, volunteering in the Heart Run and organizing its golf tournament. He also volunteered with Geneva Hayden, the GJSBA, Weed and Seed and many others, receiving many awards, including JP Morgan Chase's award for community support.
Among his survivors are his wife, Karen, daughter, two grandsons and a brother. Memorial donations can be made to the
Food Bank of Central New York
.