More Chase, Chemical and Manny Hanny Memories
Memorabilia and Stories (Send yours to news@chasealum.org)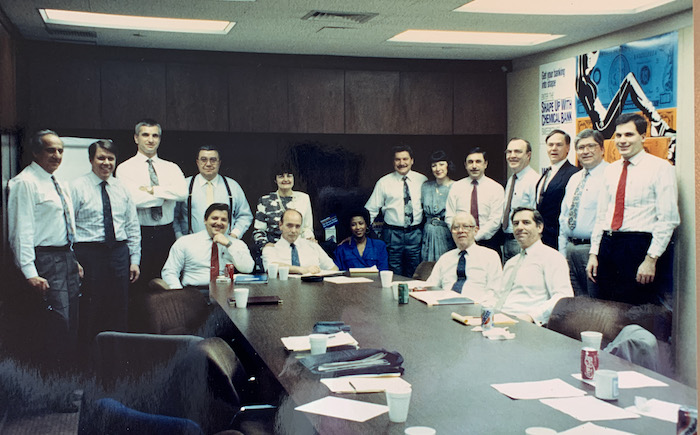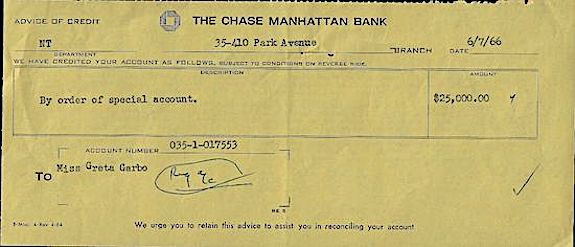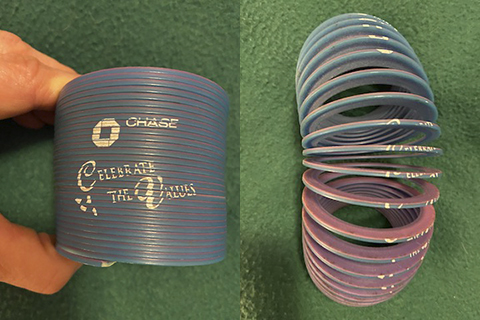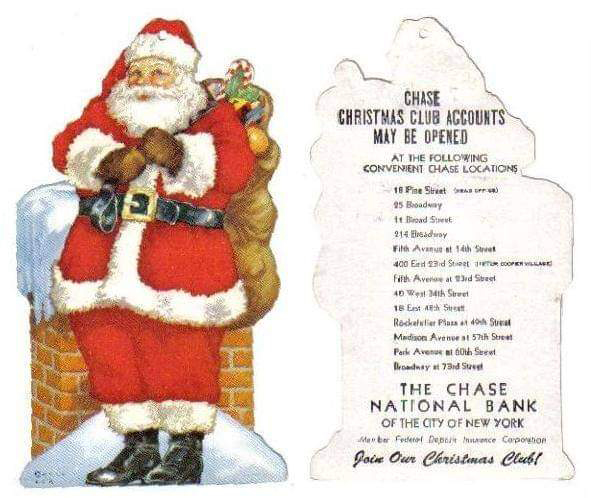 (4/11/21)
Patricia Dygulsky
sent in the following photo of the International Banking Region of Chemical Bank, from 1989 or 1990.
Standing, left to right: Ramses Shenouda, Bill McChesney, Allan Andrews, Vinnie Timmermans, Patricia Dygulski, John Livreri, Connie Lucci, Bob Caggia, Charlie Boyle, Bob Konetchy (from Ct.), Joe Longo, Fred Vagnini. Seated: Bill Bill Johnson, Al Smith, Ann Scott Gray, Charlie Wardlaw and Frank Shipman.
The International Banking Region of Chemical Bank brought customers to the bank with Letters of Credit, Acceptances and Collections, and worked
closely with the Import Export Group. William McChesney was head of the Department at this time.
Dygulsky joined Chemical

Bank in 1973 and retired after 22 years when Chase and
Chemical merged.
---
---
From Katherine Patton: A custom Slinky for the Chase "Celebrate the Values" campaign.
---
From Gene Ret: Amazing what you find when you go through old stuff. The coasters were given to preferred customers as a holiday thank you.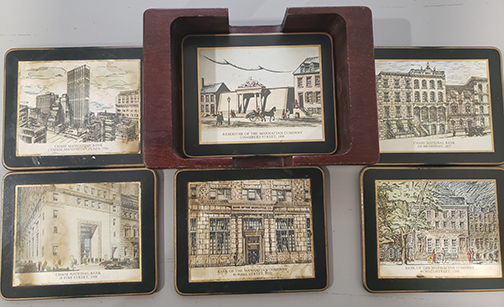 ---
From Bob Aaronson:
I joined Chemical Bank, initially as a consultant* in credit card fraud prevention in 1982. We developed the first behavior-based early warning system for counterfeit credit card fraud. (I'll try to write something up about that.) I was then hired directly by the bank in 1985 and, over the next 25 years in the Consumer Bank, served in credit card credit risk management, home mortgage credit risk management, consumer asset quality reporting, and Compliance. I retired as the Corporate Fair Lending Officer and an Associate General Counsel.
*My

bona fides

were a BA in Chemistry, a PhD in Biochemistry and postdoctoral research in Cell Biology, making me the only trained chemist at Chemical Bank.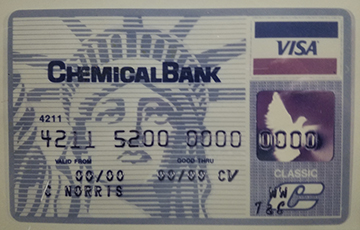 Liberty Card: A memento picture of the first bulk credit card solicitation by Chemical Bank. It was tied in with the centennial of the Statue of Liberty in July 1986. At that time credit cards reported in to Alan Silberstein and George Ross was the credit officer. It generated a billion dollars in outstandings. Prior to 1984, credit cards were offered through the branches as a custom product for the convenience of good customers. That began to change with the acquisition of the failing Continental Illinois Bank's "Town & County" credit card portfolio in 1984. Internal scuttlebutt had it that Alan Siberstein convinced Chemical's top management to raise its bid by $1 and that that was the winning bid!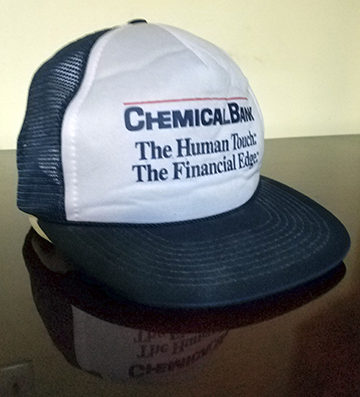 The Human Touch. The Financial Edge. The hat was part of a Retail Bank Marketing Campaign in the early 1990s in New York. At the time, each branch had an (invisible) "a" or "b" assigned to it as Chemical experimented with internal competition between "Bank A" and "Bank B", headed by Alan Silberstein and Thomas Jacob.
The We do It Right the First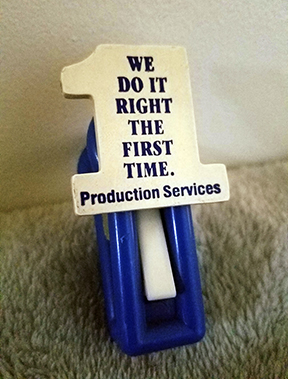 Time clip,

circa

early 1990s, was a memento of an early internal quality improvement program in back-office operations.
---
From
Denise Prata (Pelliciari)
: This is still my favorite stapler. My first boss gave to me when I
started at combined Manny Hanny/ Chemical Bank, but then called Chemical Bank with the combined symbol. I remember him telling lots of stories about the connection of the company to the Mets and I think being part of the parade with the Rockettes, but maybe somebody can add more to that one!
---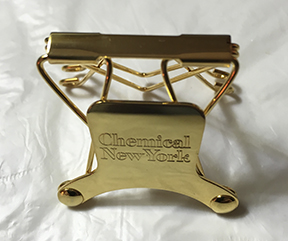 From
Brian Crowley
:
I don't know how old this money clip is or
exactly how I came across it.
My first job, right out of college, was at Chemical Bank- ultimately in its
Metropolitan Division (1975 - 1977). I worked in its Brooklyn Commercial
District (141 Livingston Street, I believe), headed by Joe Kuhn at that
time. Then I left for Business School.
Following graduation, I worked at the Chase Manhattan Bank (1979 - 1985) in
its Corporate Banking Division; then later still at Chase/JP Morgan (1999 -
2005) in its Private Banking Division.
---

From
Cheri Albury McCain
:
I started working at MHT on November 17, 1969.
My first 15 years were in Personal Loan Operations on the 15th floor of 4NYP and later in Hicksville, LI.
In 1984 I transferred to Check Reconcilement on the 3rd floor of 4NYP.
In 1987 I transferred to Corporate Automated Services/ ACH Department.
I also worked in the ACH Department at 55 Water Street after the Chemical merger.
In 1997, I transferred to Chase Treasury Services and worked there until April 2000.
The Chase item is a magnetic base with a loose pile of dollar and other currency symbols and I guess coins.
They are all magnetized so they stick together.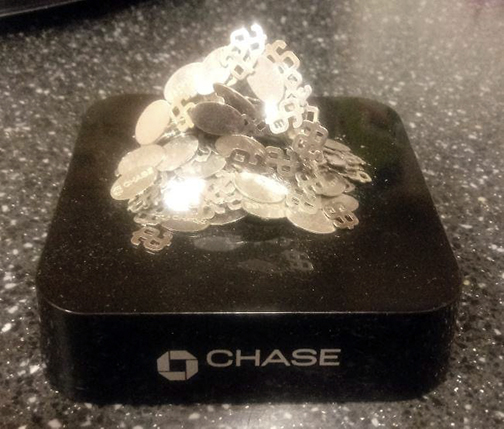 ---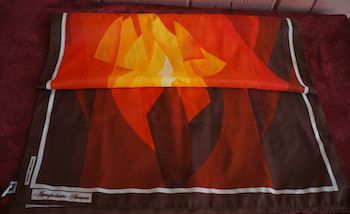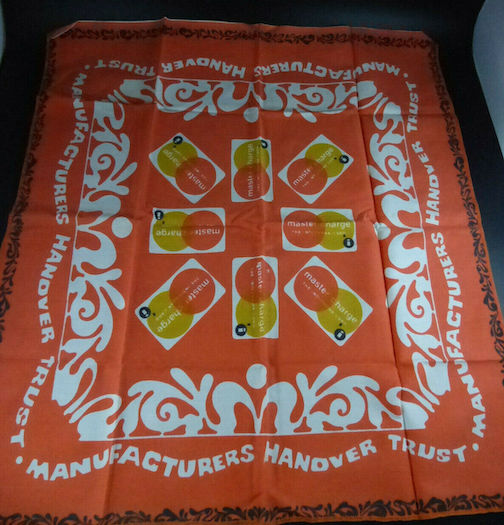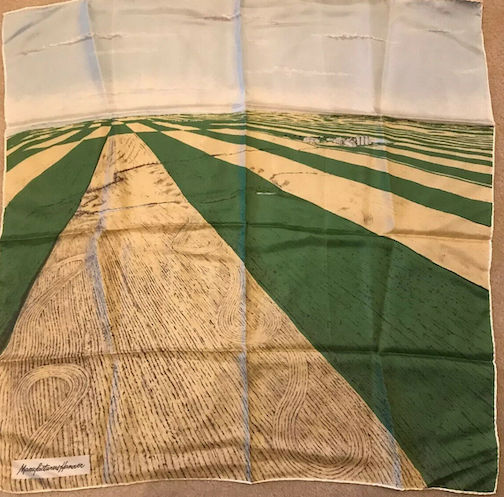 The Manufacturers Hanover scarves, World's Fair Map, Corporate Challenge patch and plate set are on eBay.