Rudi Bogni Article in Wilmott Magazine:
"This Strange New Wealth Tax"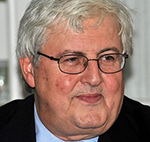 Dr. Rodolfo (Rudi) Bogni had a 30+ years career in investment and private banking culminating as CEO, Private Banking of UBS Ag. His career began at Chase Manhattan in 1972, serving in Italy, the United States, Germany and Greece until 1980. He has been a director of a number of companies (Old Mutual plc, Kedge Capital, Steadfast Advisory Services, Medinvest Intl, Prospect Publishing) and trustee of foundations (POLF, LGT, Common Purpose Intl.). He is currently chair of Northill UK, a board member of Waypoint Group Holding and Stallergenes Greer plc, a member of the International Advisory Board of Oxford Analytica and member of the Investment Committees of the London Mathematical Society and the De Vigier Stiftung. He resides in London.
Click here to download* his newly published article in Wilmott Magazine, "This Strange New Wealth Tax". Wilmott is targeted to the quantitative financial community.
* The article may not pop open automatically. Please check your download file.