In Memoriam: Zissimos Frangopoulos, 76
Held Senior Roles at MHT, Chemical and Chase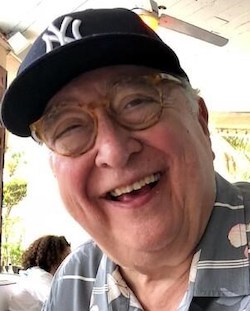 Zissimos (Ziss) Frangopoulos,
who had senior roles at Manufacturers Hanover, Chemical and Chase banks, died
on December 19, 2020 as the result of a stroke, three days after his 76th birthday.
Born at home in Athens, Greece in 1944 during an air raid, he graduated from Athens College in 1963, Yale University in 1967 and Columbia University Graduate School of Business in 1969. Soon after, he started at Chemical Bank and stayed there while it merged with Manufacturers Hanover and then Chase Manhattan. He retired from Chase in 1999.
While at Chemical he moved to London (1974-1979) to build and lead the successful Energy & Minerals Group Europe. He returned to London in 1981 to run Chemical Bank International Ltd. (CBIL), the flagship of Chemical Bank's merchant banking activities with offices in Hong Kong, Tokyo and New York.
On his return to New York in 1984, he became Finance Director and Treasurer of the Chemical Banking Corporation, responsible for Chemical's own mergers & acquisitions activities, regulatory relations, investor relations, equity and debt capital raising for the holding company. He worked with the Executive Team on all acquisitions and divestitures by Chemical Bank including transactions such as the merger with Texas Commerce Bank and Manufacturers Hanover. From 1993 he was Managing Director and Head of Financial Institutions Group and continued in that capacity until his retirement in December 1999.
Moving to Chadds Ford, PA where they had a weekend house, he and his wife, Ruthie, renovated and added on to an old stone farmhouse. About the time that was completed he was asked to join the Board of Directors of Christiana Bank & Trust Company in Greenville, DE, becoming Chief Financial Officer. A year later he became President and CEO, successfully turning around the Bank's performance, restructuring the balance sheet and putting in place strong risk controls. When Christiana was acquired by WSFS, Ziss served as a special advisor to the CEO on the integration of Christiana into WSFS Bank.
He was treasurer and then president of Vicmead Hunt Club.
He is survived by his wife and brother.
Remembrances
Please send to news@chasealum.org.
From Thomas Novack: Saddened to learn of Ziss's passing. A truly wonderful man, mentor and friend to many, with a contagious smile. Ziss will be long remembered by those of us who had the pleasure of working with him.