In Memoriam: Robert Dangremond, 77
Worldwide Commodities at Chase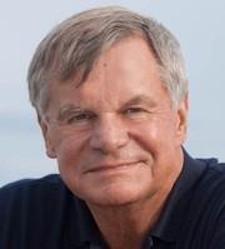 The CAA mourns the passing of its longtime member
Robert (Bob) Dangremond
, who died unexpectedly on August 28, 2020 in his home in North Kingstown, RI. He was 77.
Born in Norfolk, VA, he earned a BS in Agricultural Economics from Rutgers University and an MBA from New York University.
His career spanned 45 years in the finance and corporate restructuring industries. He worked for Chase from 1969 to 1982 in the United States and UK. He was a Vice President in Chase Manhattan Bank's worldwide commodities division,
He later became CFO and Treasurer of Leach & Garner Company in Attleboro, MA, and a Vice Chairman of AlixPartners, where he co-led the firm's turnaround and restructuring practice both in North America and worldwide. He held the positions of Chairman, CFO, President, CRO, CFO, Treasurer, and Director in numerous major public and private corporations during their bankruptcies and restructurings.

He served on the Boards of INSOL, the Institute of Marine and Coastal Science at Rutgers, and the Greater New York Council of the Boy Scouts of America.

Dangremond's passion was fly fishing. His fishing expeditions included New Zealand, Argentina, Chile, Zambia, Iceland and the western United States. He also enjoyed skiing, cycling, hiking, windsurfing, golf, and gardening.
Among his survivors are his wife, Lori Ann (Maroni), a son and daughter, three stepsons, three grandchildren
and his former wife, Denise Hyland Dangremond, who is also a Chase alumna.
Memorial donations can be given to Her Justice (
herjustice.org
), an organization that offers
pro bono
legal assistance to disadvantaged women in New York.
Remembrances
Please send to news@chasealum.org.
From Ed Moran: Bob and I were contemporaries in the 1970s when I first got to know him. I had a customer who was irate because he had done extensive due diligence to buy a small subsidiary of a listed company only to have the seller walk at the last minute. I spoke to Bob about this; he spoke to his customer; the deal went through and my wife got a dozen long stemmed roses with a note, "Your husband is the greatest". I never shared the roses with Bob but it became a running joke.
We kept up our friendship over the years and he often recommended me for various workout positions. Jay Alix would throw large cocktail parties once a year and Bob and I usually found each other and talked for a while over a drink. He was very active in the American Bankruptcy Institute, and that provided occasions for us to get together as well. I last spoke to him several years ago as he retired to his home in Rhode Island. We promised to stay in touch but, as too often happens these days, didn't. Damn, that one hurts. A good man.
From Nicole Birrell (2/21/21):
I was saddened to read of Bob's untimely passing last year. My career at Chase, fresh out of university, started in 1978 under his tutelage as the head of the famous Credit Training Course at Royex House in London. He was a tough but fair course director and a great standard setter for the very 'green' aspiring bankers under his care. My intake came from all over Europe and we had widely varying academic backgrounds, ranging from applied economics to archaeology! But somehow, with assistance from our lecturer Richard (Dick) Capps, Bob managed to drum into us the principles of sound credit analysis, prudent lending and professional banking. One of the highlights of the course came when Bob secured a visiting lecture from Prof. Joel Stern, creator and developer of the Economic Value Added concept. The complex maths mostly went way over our heads, but that was beside the point – it was still a most enthralling experience! Of course our final challenge on the Course came in the form of the infamous 'Desks' and 'Pits', with Bob being the examiner for the latter. I survived the experience!!
Bob moved on to other roles within Chase not long after I completed the CTC and I lost track of him, but those vital first eight months formed a solid base for my subsequent career in banking, and for his part in that I remai
n forever grateful to Bob.