In Memoriam: Tom Kitz, 76
Global Strategic Planning at Chase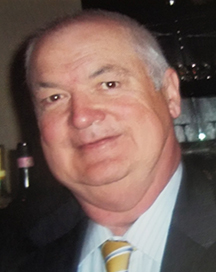 The CAA mourns the passing of its longtime member
Thomas A. (Tom) Kitz
, who died on December 13, 2020 after a hard-fought battle with cancer. He was 76 and had worked for 42 years at Chase. He was a resident of Ho-Ho-Kus, NJ.
A graduate of Fairleigh Dickinson University, Kitz worked at Chase Manhattan and Chase from 1965 to 2004, finishing there in Global Strategic Planning. He also consulted for four years for Morgan Stanley and had his own consulting firm, Kitz Consulting, LLC, from January 2005 until his death.
Among his survivors are his wife of 54 years, Marguerite, two sons, a daughter and seven grandchildren.
Donations may be made in his memory to the John Theurer Cancer Center at Hackensack University Medical Center in memory of Thomas A. Kitz, 92 2nd St., Hackensack, NJ 07601 (
www.hackensackumc.org
) and the Franciscan Bread for the Poor, Franciscan Breadline, 144 West 32nd St., New York, NY 10001 (
stfrancisbreadline.org
).
Remembrances
Please send to news@chasealum.org.
From Russell Campbell (2/21/21): It was a sad day for me a few weeks ago when I learned that Tom had passed away after a long struggle with cancer. Our paths crossed about 30 years ago when we attended a conference on "change management" together. Tom was very knowledgeable about bank operations to include check processing, money transfer, trade finance, cash management, treasury operations,
eurocurrency accounting, foreign

exchange, letters of credit, internal controls and more. He knew how the bank was operationally integrated and functioned, so much so that he was called upon to sort out and solve processing and reporting problems. Senior management relied on his institutional knowledge and experience. He helped implement the concept of "client management", whereby a culture of customer service was developed and applied internally in Ops & Systems. Ultimately he was assigned to the real estate consolidation team to relocate and integrate units from 14 buildings in downtown Manhattan into one facility called MetroTech in downtown Brooklyn, NY. This involved relocating 6,500 staff and occupying 2.2 million sq. feet of new office space. Tom became an expert at strategic space management.
Tom also played a support role in the recovery of the Bank from 9/11 by participating in the activation of the recovery command center. He would complete a remarkable 43-year career at Chase. He retired and then formed his LLC, Kitz Consulting. His expertise in strategic space planning at the corporate level was sought after by Morgan Stanley, for which Tom spent several years.
His smile, loyalty, gregarious nature and positive personality embodied who he was.
Tom will be missed.
From Jim Sepulveda: As I read Russ Campbell's remembrance of Tom, I too was saddened to hear of Tom's passing. I was honored to work with Tom and Russ on the MetroTech project together with several other great team members. At first, it seemed as though we were just a group of individuals thrown together by fate on a project to help build a new operations center, but it became clear as we worked together that this was something very special. The work that each of us did, representing our respective disciplines, helped to create an innovative and welcoming office environment, truly ahead of its time. Tom was a big part of our success and, under Russ's leadership, we all learned and grew close together as we did our best to deliver a special new center. I will always be grateful for Tom's support and energy during our time together and send my condolences to his family and friends who were truly enriched by his presence.
From Chris Carlin: I was assigned to MetroTech in 1993 upon my repatriation from Chase Tokyo until we moved over to CMP in 2005. It is hard for me to believe but now that I think of it MetroTech was the location where I worked longest in my 40 years with the bank. We moved more times than I can remember during all those years at MetroTech, and Tom Kitz was a joy to work with all along the way. He always had a smile no matter how much our team and I asked of him and his colleagues. Our moves were always accomplished seamlessly, and Tom was our guardian angel in making sure all was in order each and every time. Graceful competence defined! May he rest in peace.
From Doug Monroe (5/3/2021): Tom was one the "good guys" from the day I joined in 1984 until I retired. He was honest and direct, and also a great mentor to younger ops managers. He did a lot for our company and I always considered him a friend. RIP.