In Memoriam: Tom Kitz, 76
Global Strategic Planning at Chase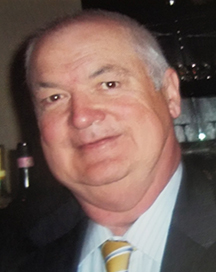 The CAA mourns the passing of its longtime member
Thomas A. (Tom) Kitz
, who died on December 13, 2020 after a hard-fought battle with cancer. He was 76 and had worked for 42 years at Chase. He was a resident of Ho-Ho-Kus, NJ.
A graduate of Fairleigh Dickinson University, Kitz worked at Chase Manhattan and Chase from 1965 to 2004, finishing there in Global Strategic Planning. He also consulted for four years for Morgan Stanley and had his own consulting firm, Kitz Consulting, LLC, from January 2005 until his death.
Among his survivors are his wife of 54 years, Marguerite, two sons, a daughter and seven grandchildren.
Donations may be made in his memory to the John Theurer Cancer Center at Hackensack University Medical Center in memory of Thomas A. Kitz, 92 2nd St., Hackensack, NJ 07601 (
www.hackensackumc.org
) and the Franciscan Bread for the Poor, Franciscan Breadline, 144 West 32nd St., New York, NY 10001 (
stfrancisbreadline.org
).
Remembrances
Please send to news@chasealum.org.
From Russell Campbell (2/21/21): It was a sad day for me a few weeks ago when I learned that Tom had passed away after a long struggle with cancer. Our paths crossed about 30 years ago when we attended a conference on "change management" together. Tom was very knowledgeable about bank operations to include check processing, money transfer, trade finance, cash management, treasury operations,
eurocurrency accounting, foreign

exchange, letters of credit, internal controls and more. He knew how the bank was operationally integrated and functioned, so much so that he was called upon to sort out and solve processing and reporting problems. Senior management relied on his institutional knowledge and experience. He helped implement the concept of "client management", whereby a culture of customer service was developed and applied internally in Ops & Systems. Ultimately he was assigned to the real estate consolidation team to relocate and integrate units from 14 buildings in downtown Manhattan into one facility called MetroTech in downtown Brooklyn, NY. This involved relocating 6,500 staff and occupying 2.2 million sq. feet of new office space. Tom became an expert at strategic space management.
Tom also played a support role in the recovery of the Bank from 9/11 by participating in the activation of the recovery command center. He would complete a remarkable 43-year career at Chase. He retired and then formed his LLC, Kitz Consulting. His expertise in strategic space planning at the corporate level was sought after by Morgan Stanley, for which Tom spent several years.
His smile, loyalty, gregarious nature and positive personality embodied who he was.
Tom will be missed.